Our iPhone app has been updated! Get the newest version →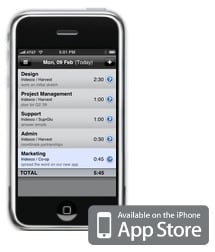 iPhone time tracking is now even easier with a native application which works whether you are online or offline. Built and distributed by Harvest customer, Y Factorial, the app is free to download and available now from the iTunes app store.
As some of you may know, Harvest already supports iPhone time and expense tracking via the iPhone optimized web interface. By using the new native iPhone applications, users will now be able to track and enter time even when they are offline. When they are back online, the application automatically syncs all the offline records back up to the user's Harvest account.
Thanks again to Y Factorial for doing a great job with this application to complement Harvest's time tracking capabilities. Let us know what you think!