We're very excited to announce Harvest's latest new feature: automatic late invoice reminder. Now, on every sent invoice, you can set up Harvest to send your customer an automatic email reminder if their invoice is past due for a number of days. To set it up, just click on any sent invoice, click on the button More Actions > Reminder Email, and you'll see the following form: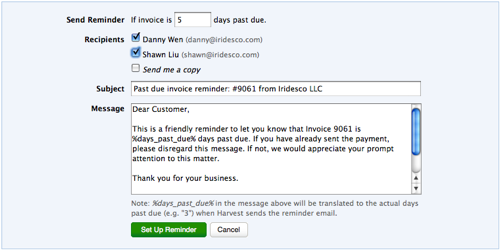 As with all the invoice messages, you can configure and translate the reminder email. Click on the button "Set Up Reminder", and that's it! Harvest will automatically send your customer a message if the invoice is late – and it will be one less thing for you to have to keep track of.
Some tips and tricks with the new reminder feature:
On any late invoice, you will see a new button to "Send Reminder". Click on the button, and you can send your client a reminder email. The reminder email will be recorded under the invoice's Activity Log, so you can reference it in the future.
You can change (or translate) the default reminder message via Invoices > Configure, under the Messages tab.
When you set up a recurring invoice, you can also set up a late invoice reminder right on the invoice. On the recurring invoice, choose the option "Automatically send this invoice via email on scheduled date" and you can set up the "Payment Reminder" (right below Email Message).
Many of the new features and improvements we add to Harvest come directly from you, the Harvest users. What other improvements can we add to Harvest invoicing to help simplify your billing? Please let us know via the support form.