Co-op is our simple solution for team collaboration. It's a tool we use everyday to keep each other updated on what we're working on right now and what we plan to work on later. It has made us more efficient as well as have more fun throughout the work day; it's our central medium to share links and thoughts within the team. Co-op does all this while we seamlessly track time through Co-op's Harvest integration.
CrazedCoders, a development firm which uses Harvest & Co-op, have taken the liberty to develop an amazing iPhone application using Co-op's RESTful API. Read below for more information or download iCo-op from the iTunes Apps store (FREE)! Note: requires a Co-op account which is free to sign up via the web.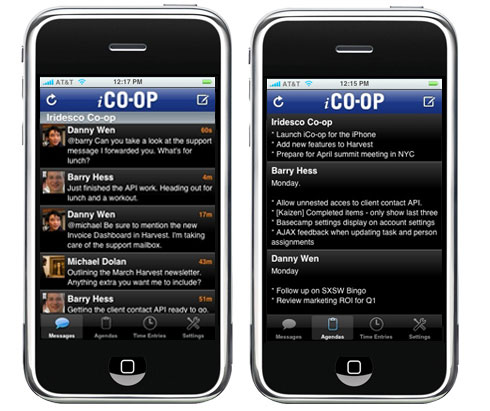 iCo-op is a native iPhone application for Co-op, a lightweight web-based project management and team collaboration tool. By providing an easy way for team members to update each other on what they are working on, iCo-op enables teams to work more efficiently and enjoyably together. With an optional integration to the Harvest time tracking and invoicing app (http://getharvest.com), professional services teams can effortlessly track time and bill clients while keeping everyone on the same page.

With iCo-op for the iPhone, staying in touch with your teammates on-the-go has never been easier. Share ideas, ask questions, or coordinate groups from wherever you are. Whether you are part of a small team in a larger company or one of many freelancers working together, iCo-op keeps you and your teammates connected so you can get more work done together.
Download iCo-op Team Communicator from iTunes App Store (FREE)