Unfortunately, this is no longer a supported integration with Harvest.
A few weeks ago, we got a glimpse of beautifully executed Harvest add-on called Scythe. We're excited to tell you that this FREE add-on is now available for download. The simple application allows users to track their earnings via an interface which appears on the menu bar of Mac OS X.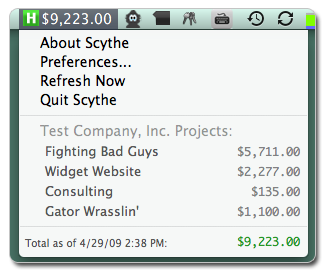 Let Harvest do your time tracking while you track earnings right on your desktop with Scythe.
Learn more and download Scythe
Many thanks to Doug of Falesafe Consulting for coming up with this great Harvest add-on!