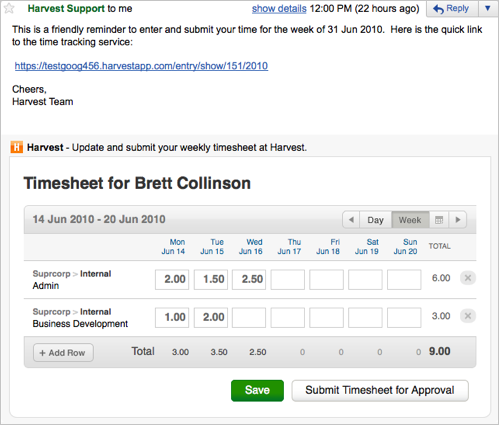 A Harvest Timesheet in your Gmail?!
Today, we're excited to announce the launch of Harvest for Google Apps. Google Apps users can now easily add Harvest to Google Apps via the Google Apps Marketplace.
One caveat: this integration right now only works for new users who are signing up for Harvest via the Google Apps Marketplace. We're working on making this connection available to current Harvest customers as well. Linking existing accounts to Google Apps is more complex, but rest assured that we're working on it, and will have it available soon!
UPDATE: This integration now works for existing customers as well, check out our blog post about how Existing Harvest Customers Can Now Utilize Google Apps Integration.
There are three main points of integration between Harvest and Google Apps:
Submit timesheets directly from Gmail
Harvest can already send out reminders to users who have not submitted their timesheets. With our integration, we made timesheet submission even easier for users, by allowing them to enter and submit timesheets directly within the reminder email. It's a really convenient way for everyone to get their timesheets in, which leads to more prompt and accurate tracking of your time.
UPDATE: The ability to submit timesheets directly from Gmail is no longer available. Sorry about that!
Export timesheet reports into Google Docs
A lot of our users already take advantage of our CSV and Excel exports so they can further manipulate their data, so we've decided to make it easy for users to export the reports to one more spreadsheet application: Google Docs. Instead of having to download the CSV and then upload it to Google Docs, users can now bring reports into Google Docs with just a single click.
Quick links to Harvest in relevant emails
Based on the context of your emails, we can show the "Quick Links" to jump right into Harvest. So if you email a colleague about filling out timesheets, we show them a quick link to Harvest at the bottom of the email so they can easily access their account.
And of course, once connected, users can take advantage of the single sign-on integration and jump directly into Harvest from Google's universal navigation. This means users can be in Gmail, or Google Docs, and with a couple clicks, jump right into Harvest without having to re-login.
Update: Harvest for Google Apps is also covered on the Google Enterprise Blog and the Official Google Blog.