La Grande is a small rural community in Eastern Oregon struggling with city and state funding, school programs that are are getting cut, and a downtown that has been ghostly for years. We got to chat with Chris and Mike, the engine behind La Grande Life, about how they are connecting a town with limited resources by way of social word of mouth, so that people can join in on all of the things happening in their own community, and how Harvest keeps them on track for those crucial, but non-billable, hours.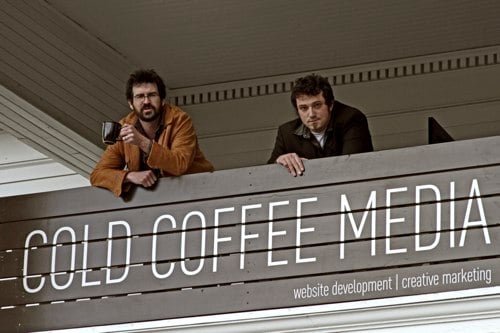 What was the inspiration for starting your company?
Once we got Cold Coffee Media off the ground to give local businesses (and beyond) the most gorgeous and intuitive web presence available, we said "Man, I wish there was a hub for all the cool things going on in our home town of La Grande. A place where people could find out where the live music is, where the good bike trails are, what movies are playing, who's teaching a workshop or organizing an event, or sharing their thoughts: and have it be all local, by the people/for the people". So we created lagrandelife.com to be the local social networking hub we wanted to use ourselves.

In what ways are you employing social media, and what kinds of results/impact are you seeing?
The motto of the site is "What's Happening." We have a street team of folks who tweet on location, giving viewers on the website real time updates. People have browsed to lagrandelife.com and seen the Twitter feed at the top of the homepage saying "Open Mic at Ten Depot right now… Mike just finished a Pixies cover". They hop in the car, and in ten minutes they're joining the crowd.
In terms of generating revenue, the idea is to have the site be sponsorship-based, not ad-driven. For example, rather than ask a local chef to buy an ad on the homepage, we'd rather help him produce a weekly cooking vlog and feature it on the site. It becomes a "destination commercial" that people navigate to and watch on purpose because it's entertaining and has good information – rather than traditional ads or commercials that you trip over on the way to what you're really looking for.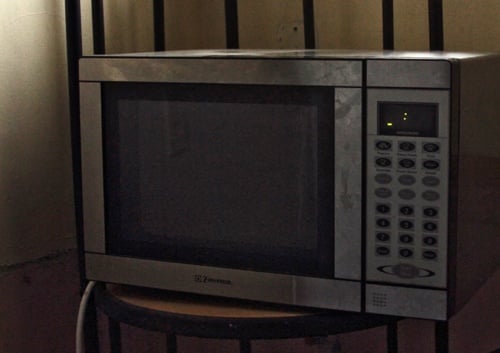 What does a typical day entail for you?
The two of us like to brainstorm on the balcony over coffee (First things first, you know). Then it's a race to moderate blog posts and comments, funnel info into the calendars, and post our own vlogs, before the phones start ringing and emails start dinging. From there, it's onto client work. We have a vicious passion for making gorgeous websites for other people, so by lunchtime we're trying to wrap up work on lagrandelife.com and move on to helping others with their web presence.
Creativity + hard work + and coffee (in that order) is our magic formula. That's where the name Cold Coffee Media comes from actually. We have an ancient microwave that our coffee cups visit dozens of times a day — We figure if the coffee keeps getting cold, we must be working hard.
Why do you track time, and how do you guys use Harvest?
We do a lot of billable client work, so tracking time on those projects is essential, but we're also finding that tracking our non-billable hours is valuable in helping us see how we're doing. We do a lot of things because we love to or because we believe in the people/thing at hand which is good for karma, but for the sake of the business, there's a delicate balance to be minded. By tracking all of our time we can look back over the day/week/month and evaluate our productivity, and then make a conscious effort to improve that ratio. We are also looking towards the future of managing contributors, interns, and subcontractors, as La Grande Life grows. We do love using the Estimate and Invoicing features of Harvest, which has streamlined our flow and cut out the use of multiple apps to get these jobs done.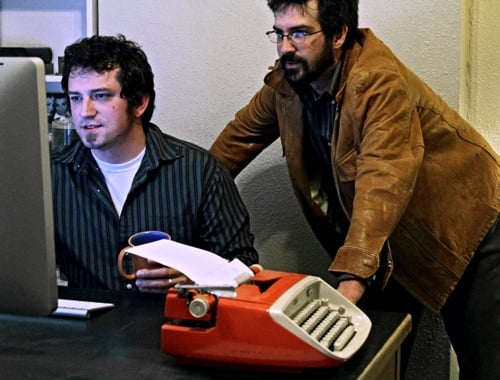 How do you see La Grande Life further developing and expanding?
It's interesting what an economic low-point does to a community. You start to see the Roommate Effect (we like to make up our own scientific terms). By banding together and sharing resources, we've all got more to work with. Ten people on a shoestring budget can tie those strings together and make one big rope. So what do you have to offer? Well, I play guitar so maybe I can attract some people into your coffee shop and you can help me sell some records. That's how we see the town growing, and lagrandelife.com is a reflection of that mentality. It's a resource for all of us, that increases our value. The amount of visitors to the site is equivalent to almost half the population of La Grande… so we're halfway there!
In the spirit of our new Hobby series, are there any hobbies you'd like to share with us, when you're not working on La Grande Life and Cold Coffee Media?
MIKE: I collect old typewriters, and write with them. We use so much technology at work (which I love) that it feels like I'm working if I sit down at a computer to work on my screenplay, or write song lyrics. So I can't help myself anytime I come across an old manual typewriter. There's something about how organic and quick it is for your finger to slam the ink onto the paper.
CHRIS: Disc Golf. It's the most glorious of sports. The people who are attracted to the game are very fun and chill folks, and what other sport allows you to drink beer and walk around at a casual pace while practicing your craft? (Well, regular golf, I suppose, but you can wear flip-flops on the disc golf course?)
We're happy to welcome La Grande Life in joining our Harvest New Founders family, and are excited to watch as they continue to grow their rural community involvement beyond the web, into actual, real-time events.

To help companies get on their feet, The Harvest New Founders Program gives one year's subscription of Harvest time tracking service to a new company each month. Think you might be a good fit for our New Founders Program? Learn more and apply.