For the second year in a row, Harvest was pleased to sponsor BizConf, which took place at the Ritz-Carlton, Amelia Island, Florida. With fewer than 100 attendees, there is plenty of opportunity to get to know everyone in attendance, and our own Prime Hacker Barry Hess and Systems Administrator Warwick Poole went down to scope out the scene. The location and food were outstanding (outstanding), but the people were what made BizConf remarkable.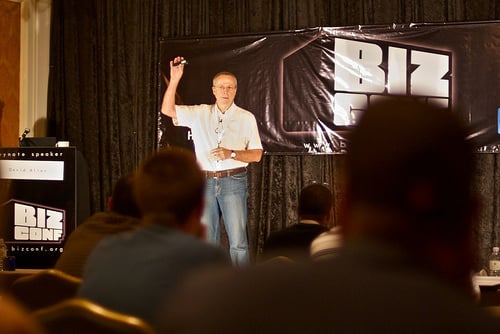 Against all odds, David Allen inspired Barry to give the Getting Things Done weekly review another try. Though it DID take an hour-long presentation, a three-hour breakout session and a chat over drinks to make it happen.
Jonathan Siegel of RightSignature, and a slew of other successful ventures, provided candid insight in the discussion Embracing the F Word, which focused on Jonathan's own ventures that have not taken off, and how these experiences have allowed him to iterate through several successful ventures.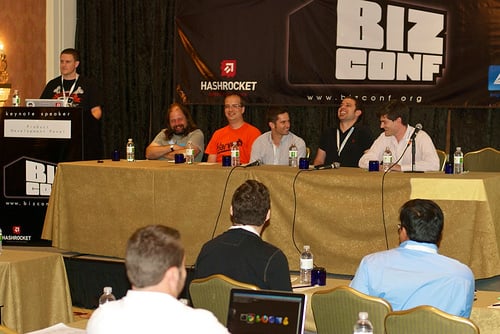 Look – it's Barry Hess in the orange Harvest t-shirt, on the Product Development Panel!
Over an excellent gourmet meal, Barry talked at length with Uzi Scmilovici of PipeJump about product businesses, web agencies, and being an officer in the Israeli army. These types of conversations were remarkably frequent at BizConf, as were the interesting applications on display, such as PipeJump, Serenity, and dnsimple.
Ian McFarland of Pivotal Labs provided some thoughtful discussion on the tensions between deisgn and development in the agile development process, based on a wealth of experience gained during the development of Pivotal Tracker and many other applications.
The conference ended with the promise of BizConf 2011. We highly recommend the conference for tech company business leaders. The people you meet at BizConf will have an impact on the future of your business and your career, and we were thrilled to have the opportunity to talk with so many interesting and interested people. Hope to see you there next year!