A wider, sharper-looking Web Invoice (formerly, Client View) is coming next Tuesday! Here's a preview of how it will look: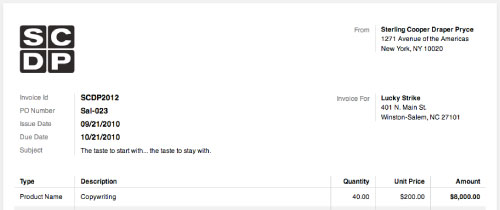 Some highlights of the new layout:
Wider canvas – The invoice will feel more roomy and can accommodate more information.
Easier to read – We have tweaked the type, colors, spacing, and sizing – so that information is easier to read and scan.
Sleek and fast – There is more visual punch to the look, taking advantage of CSS3, so the invoice remains lightweight and fast to load.
Refreshed but familiar – We overhauled the structure and design, but kept the look and feel familiar to minimize disruption.
The new Web Invoice comes with a new feature – integration with three popular payment gateways: Authorize.net, LinkPoint / First Data, and PayPal Website Payments Pro. With the new integration, you will be able to accept credit card payments on invoices, which means that your clients can pay much faster. There will be a separate blog post about this next week, explaining how the new feature will work.
This new invoice layout was re-envisioned and designed by Squared Eye, one of Harvest's happy customers. Thank you, Matthew!