On my recent visit to San Francisco, I was walking down Valencia Street, in the heart of the Mission District, and this huge, hulking letterpress machine caught my eye, just sitting silently in a storefront. What is this? I peered in to the cavernous space. It was dark, and all the stores were closed. To the left, another letterpress machine, a Vandercook, and beyond, some more goodies I couldn't make out. And there's a big Levi's logo on the storefront window. What the…? Turns out, this was a Levi's store, but not like any store I'd ever been to.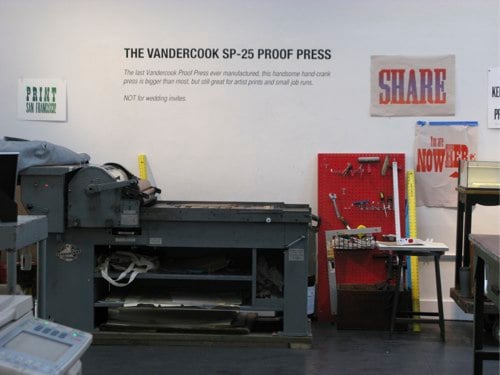 Back in the day, Levi's was THE brand of jeans to wear when I was a kid (well, those and Gloria Vanderbilt), but in recent years they've just sort of faded to the background. They had some sort of western thing they were doing for a while, and they have seemed to focus a lot on their history, which didn't make much of an impression on me. But Levi's has taken a new tact with their marketing, and I was rather interested to investigate what they've been up to as of late.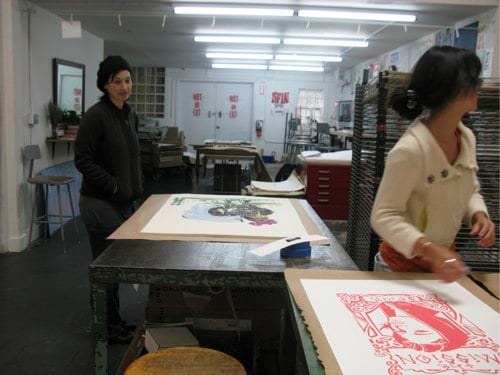 Make it about your brand
Levi's has long said it's jeans are for the worker, and the pioneer. "We are all workers" is their new slogan, and they've got a video series of the same name following the residents and workers in the town of Braddock, Pennsylvania, a town that Levi's actually invested money in, to rebuild. Braddock is an industrial town left to rot after the steel mills were closed down, but this series focuses on the "new generation of urban pioneers (that) has come with a mission- to create a new frontier from the ashes of the once vibrant town". With highlights of a 6'8″, tattooed late 20-something Ivy League graduate for a mayor, and stories of urban farming and the local grocery, this series is an interesting tie between brand and actual community interaction, with solid monetary support to boot. Here at Harvest, we've tried to do some fun things that feed back into what our brand actually does (time tracking and invoicing), like with our community powered timepiece, The World Clock Project.
Make it relevant
During the Levi's INK workshops, graphic design extraordinaire Stefan Sagmeister spoke about how he works, and Scott Thomas talked about how the Obama campaign changed the election process. Levi's brought in many artists and collaborators for designs and pieces to print: they even did a workshop in denim papermaking. They brought local writers and designers who were absolute strangers together for a collaboration. They made these workshops very relevant for the locals, from the latest in design and politics, to local filmmakers, writers, publishers and magazines, and they focused on timely and interesting topics for people to engage with. We've put some thought toward this same type of interaction, like in 2009, when we created a SXSW Bingo game, complete with all of the big players out and about that year at SXSWi.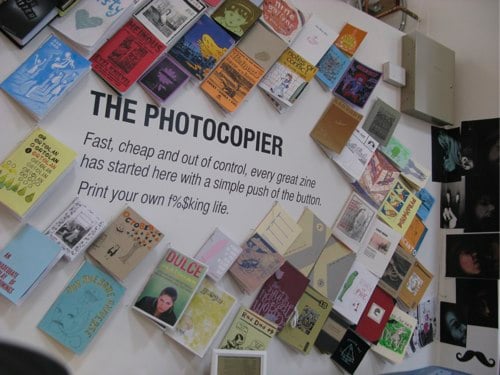 Make it fun
On the weekends the space hosted Open Studios, and you could sign up to make, create, and be part of the process of a print project. They had so many options: rubber stamps, 2 large upright letterpress machines, 2 clamp letterpress machines, a zine section complete with Xerox machine for starting your own revolution, and a silkscreening area, with ample room for print drying. The people that worked there were artists from across the country, happy to talk shop with a fellow artist, or teach the basics to a newbie. Events at the space also offered opportunities to use the equipment. We've adopted a similar tact with our Hobby series here at Harvest HQ, which gets people talking to us (and each other!) with some interesting lectures, from creating crosswords to light touring to breakdancing, and we've found it to be a great way for our community to see the people behind our company.
Make it local
The Bay Area workshop was just one in a series they have planned. The tiny area of Levi's clothing that was allotted for sales was demurely hiding in the back. Any sales made at the pop-up shop would have a portion of the proceeds donated to one of three San Francisco-based charities. I spoke with a fantastic letterpressing gentleman named Hunter Craighill, who not only walked us through the machines and the space, but let me know that they'd be setting up a new workshop focused on photography right here in New York City, in October. Here at Harvest, we're focused on keeping it local, and we organized Walkabout NYC in June 2010, which allowed people to get a sneak peak behind the scenes of their favorite New York start-ups.
I'm very interested to see what they have planned for their New York City installment of their workshop series, and furthermore, to see how Levi's continues to grow its brand and reach in very personal, focused ways.