Mobile devices have come a long way since their heyday as a voice communication device. Beyond helping us connect with friends and family, the smartphone has become a powerful business tool in the palm of our hands.
After we released Harvest for iPhone last year, it came as no surprise that one of the most frequent requests from customers has been for us to create a mobile app for Android. We've been paying close attention to the adoption of Android amongst our users and late last year decided that having a great mobile companion for Android was simply too important to not address. We needed to provide the best and most convenient way for our users to access Harvest on the emerging smartphone platform.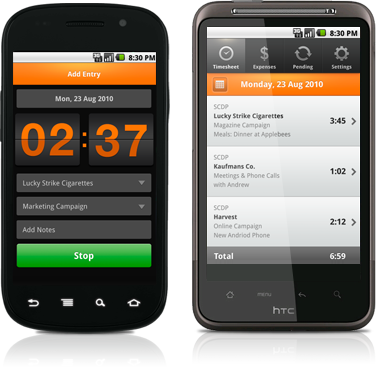 With the release of the official Harvest Android time tracker app, Android users can now enjoy the same powerful features available to iPhone users: start and stop timers on the go, enter expenses, and snap photos of receipts to securely send them to your Harvest account.
Now whether the members on your team have iPhones or Android devices, everyone will have access to the important mobile-centric things they might need to do while on the go.
Mobile phones will continue to rapidly evolve in form and function even over the next few months. We are committed to bringing you the best experience with Harvest, especially as the times are a changin'.
Visit Android time tracker to learn more and download this companion app for free.
BONUS: Have a Windows Phone 7? Check out the soon-to-be-released 3rd party app, TimeTractor: Windows Phone 7 Time Tracker