Brewing in the heart of Melbourne's creative hub of Gertrude St Fitzroy is Rubber House, a fresh entry to Australia's animation scene. Combining the talents of Greg Sharp and Ivan Dixon, Rubber House is busy creating a unique and wild style of animation, illustration and games. The pair joined forces to create this two man hand drawn animation studio, and we got a chance to talk with them about how personal and paid projects can feed into each other, why Flash has a bad name, and tracking time on creative projects to better estimate to future clients.
What was the inspiration for starting your company?
Animation has the ability to connect emotionally with an audience, and we'd like to think we do that in our work. We draw from a broad range of experience, from Greg's background in feature film visual FX (Lord of the Rings, King Kong) and Ivan's fine arts obsession with low-res pixel art, indie video games and comics. We feel that there is a lot of emphasis on the attainment of realism in the current animation landscape, but it can really limit the creative potential inherent in animation. The strength of animation is that you can do ANYTHING.
What is the animation/interactive scene like in Melbourne, and Australia as a whole?
Melbourne has a strong interactive scene. IGDA (International Game Developers Association) meets monthly to discuss all sorts of things related to the industry. It's a chance for professionals and students to talk about work, side projects, jobs, software, etc. We were really inspired by the IGDA events and we find ourselves wishing for something similar for the animation industry. There is a lot of talent down here, but we think a lot of people are protective of their craft or simply too busy to devote any time to the community side of things. We're starting a new collective of the brightest people in animation and cartooning and we're looking to produce some content that will put Melbourne, and Australia, on the map as being at the forefront of animation.
What is it about the 1920's style animation that you like so much, and how are you making it applicable in a contemporary world?
The style is so physical. We see a lot of stuff these days that is really stiff, and we prefer the elasticity and rubberyness of the 1920's animation. The art direction and character designs were really funny and appealed to all ages – and are still appealing to people today. There are all sorts of ways to apply this approach, such as advertising, television and film, but the most exciting application, for us at least, is interactive. The visuals are what sell the product in the first place. We're big fans of people like Nintendo, that recognise the importance of appealing imagery and compliment it with novel game play.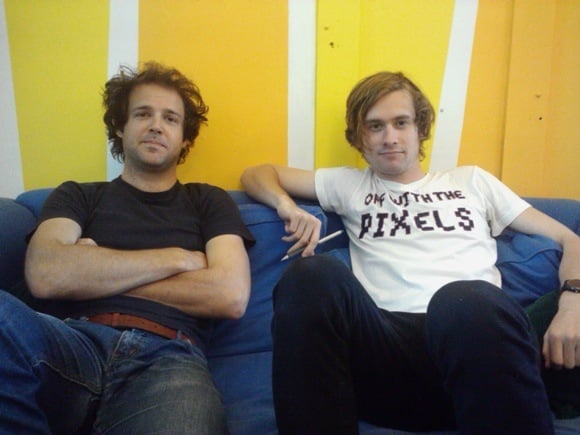 What projects have you been able to realize with Rubber House that you are proud to call your own?
We recently completed a short film called The Big Winner (watch the video above!). It garnered a lot of attention online from some prominent animation blogs as well as getting quite the following on Vimeo. In terms of commercial work, we did the art direction and animation on a promotional web game for the Telstra V8 Super Car tournament in Sydney. Visually, it's quite different from most of our other work, as it references early computer game graphics or "pixel art." We had quick turn around on the project, but it was super fun to produce.
What powers the engine behind Rubber House?
We use Adobe Flash to produce our animation. We like to do as much hand drawn animation as possible. Flash has a bit of a bad name due to the software's automated shortcuts being misused. The insult that something looks a "Flashy" is well deserved, but it's not so much the software, rather, how it's used. Flash is neat because we can use it for video and interactive production. In terms of online resources, we constantly refer to Cartoon Brew. It's the best site for animation past and present. We also have a growing library of animation and art books within arm reach.
Do you have any advice for other seedling small businesses, of early strategies in running your own firm, that have been fruitful for you?
Our model is to use our commercial work to fund our own creative projects such as short films, mobile and online content which we work on during our down time. It's these auxiliary projects that ultimately get us more of the sort of paid work that we want to do. So the two strands compliment each other nicely.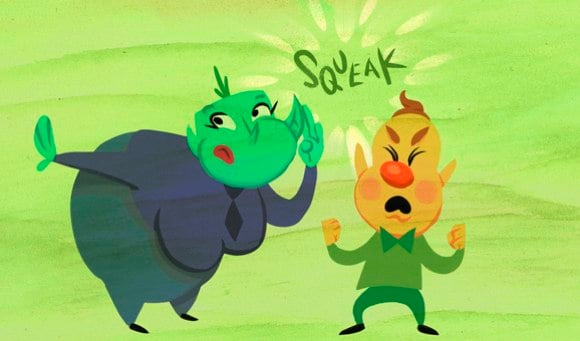 Why do you track time, and how do you guys use Harvest?
Time tracking is really convenient for working on-and-off on projects. The way we work often involves juggling multiple tasks between the two of us, and sometimes it is only necessary to work a few minutes here and there. So to save us jotting down a start time and stop time on paper and then trying to add everything up at end of the day, we just select the project online and hit the timer. It's quicker for us and probably more accurate for the client. Furthermore, even when clients and invoices are not involved, creating animation involves many processes and is notoriously hard to make realistic quotes. So it is handy to track the time spent on each process and take notes, and at the end of a personal project we can gauge the total time spent on the animation, for accurate future quoting.
What's next on the horizon for Rubber House?
We're currently developing an arcade style iPhone game that employs the touch screen and inbuilt gyroscope that make mobile gaming so exciting. The Apple store offers indie developers like ourselves an easy means of distribution, so not only can we reach our target audience easily, but we can also potentially profit from it. The project is hush hush at the moment, but we can say it will feature our signature crazy cartoony look. We also just got the green light from Film Victoria to develop a point-and-click adventure game for the iPhone and iPad. It's an original story and we'll be controlling all aspects of the production. Interactive content is great because it can stimulate an audience for a longer duration than a short film, and players can feel completely immersed in the world we create.
We welcome Rubber House to our growing roster of Harvest New Founders, and are excited to support them as they push the boundaries of animation, interactive play, and Flash!
To help companies get on their feet, The Harvest New Founders Program gives one year's subscription of Harvest time tracking service to a new company each month. Think you might be a good fit for our New Founders Program? Learn more and apply.