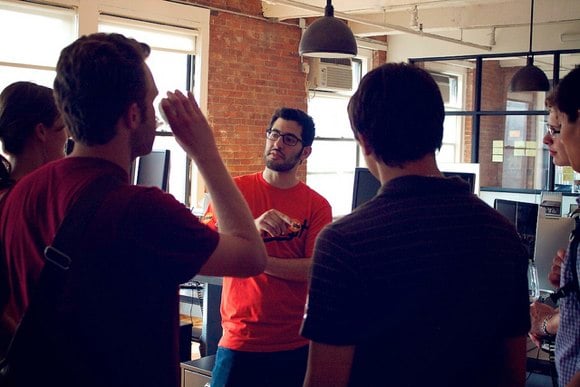 After hosting our second Walkabout NYC, an open house for technology companies, just over a week ago, I wanted to share with you why we here at Harvest organize this city-wide event. Harvest has always supported the entrepreneurial spirit (like with our New Founders Program). The goal of Walkabout NYC is simple: to create a connection between the tech companies and the community that surrounds, inspires, and supports them.
Danny Wen and Shawn Liu, the co-founders here at Harvest, have always enjoyed taking tours of creative and entrepreneurial workspaces. No matter what size, they found the spaces always fostered inspirational energy. From forming the company in a tiny shared office to Harvest's current home in a Soho loft, Danny and Shawn recognize how instrumental those behind-the-scenes experiences were along the way.

This year's edition of Walkabout NYC included over 80 technology companies, and we heard back from some of the people who put on their walking shoes, and explored the companies on Walkabout NYC:
Qlabs, AOL ventures, Meetup, Gawker, Squarespace were all great to visit, as were many more. Saw some informative and engaging presentations, had some in-depth discussions with great folks, and took home some cool t-shirts, stickers and swag.
A great added bonus was we got to meet founders and team members which was super, super cool. Hearing their stories and ideas was fun and the fact it was on a Friday afternoon made for it to be very relaxed.
I thought the atmosphere's in offices such as Meetup.com, ZocDoc, Thrillist, Indaba Music, and AOL Ventures were exciting. Everyone was extremely knowledgeable and willing to help. It seemed symbolic of the startup community as a whole. This was my first experience with Walkabout NYC and hopefully not the last!
If you weren't able to join us on Walkabout NYC, you can still see photos from the event, and check out some of the workspaces of companies that participated, on our Walkabout NYC video channel.
We can't wait for the next one, and hope to see you there!