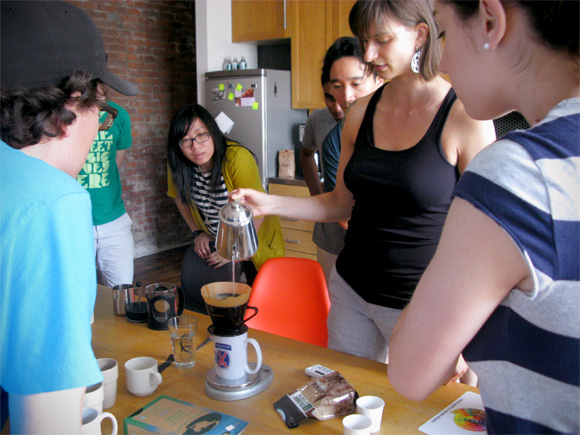 Yesterday, we were very lucky to have Teresa von Fuchs, coffee & espresso consultant for Dallis Bros. Coffee in Queens, NY, in the office to spend some time with us talking and tasting coffee. A big part of Teresa's job involves going into the cafes and coffee shops carrying Dallis's coffee to educate them on preparation, freshness and general coffee know-how. She doesn't normally do presentations to internet companies, but we asked so nicely that she couldn't say no.
Teresa started by talking to us about how much work goes into each pound of coffee before it even arrives at their facility for roasting. Farming coffee is a very labor intensive process and each bean goes through human hands more than once. She encouraged us to take our time when preparing coffee and to respect the efforts of the farmers who've done so much with the beans.
Next, Teresa brewed three of Dallis's offerings via two different preparation methods – french press and pour over. Sampling the various methods side-by-side helped us understand the differences in flavor that result from different brewing methods. After an hour with Teresa, she had us considering switching our trusty office coffee maker to a giant french press.

While showing us the different methods, Teresa stressed the importance of every variable involved in coffee brewing. Though choosing quality beans is an obvious first step, everything from coffee grind size, to water and cup temperature, to steep time, and even the vigorousness with which you pour the water affect the final outcome. She really encouraged us to treat the preparation step not as a nuisance, but as a chance to celebrate the coffee and appreciate all that is involved.
Needless to say, we had quite a bit of fun learning about and tasting coffee. Many thanks to Teresa and Dallis Bros. for giving up some time to us.
About Dallis Bros. Coffee
Dallis Bros. Coffee has been roasting coffee in Ozone Park, Queens for nearly 100 years. They offer a number of expertly roasted single origin and micro-lot coffees through their website. If you're in the NYC area, they also offer tours of their roasting facility on the first Saturday of every month. Here are their coffees we tried during our tasting:
Does taking a break from work to talk coffee sound fun to you? Join us, we're hiring.