Update: We're excited to announce that the latest version of our Harvest iPhone app, v1.4, has been released. This version includes a bug fix for syncing expense receipts, and will also backup your receipt photos to your iPhone. You can find it in the App Store on your iPhone.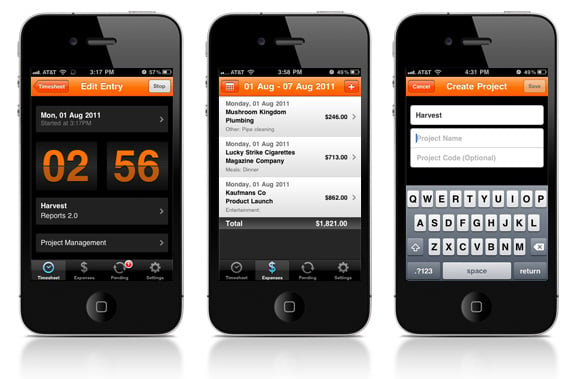 Today we're announcing a significant update for our Free official Harvest iPhone app, version 1.3. You can find it in the App Store on your iPhone.
Improved Syncing Reliability
Version 1.3 brings improved reliability with the iPhone syncing to your online Harvest account. Being one of the first to bring offline syncing to time tracking, we've now made it even better. The previous code ran into a number of issues during sync, so we decided to overhaul the entire syncing engine. This overhaul includes the removal of 1000+ lines on code in favor of a brand new set of API calls for much more efficient and reliable syncing (these calls will soon be exposed to all API developers and integrations).
Tracking time and expenses on-the-go should be smoother than ever. As an added bonus, the new API calls now allow us to include conflict messages when a sync doesn't work exactly as planned, so you know exactly what happened: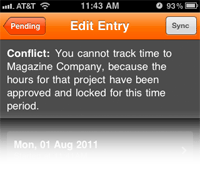 Other Features
Along with the reliability updates, this version also includes some new features and other improvements, including:
You can now create clients, projects, and tasks right from the app
A 'Jump to Today' button if you go to another day in Timesheets
A 'Jump to this Week' button if you go to another week in Expenses
Project Codes are now displayed
Increased font sizes on all inputs
Various bug fixes
New icon
Enjoy, and let us know how the Harvest iPhone app is helping your business. As always, let us know how we can make it even better.
The Harvest iPhone app allows iPhone users (with iOS 4) to track time and expenses on-the-go, with or without a network connection. You can start and stop task timers, add duration and notes, and upload expense receipts right from your iPhone. Learn more about iPhone Time Tracking.