Most of our team works out of our New York City office, but we also have team members across North America and Europe. Twice a year, we get everyone together for a week of in-person collaboration. For most of us, so much of our days are spent in the rhythm of work; and the majority of communication happens via email, Co-op, chat and Google hangouts. Our biannual Summits are designed to break up that rhythm and to reclaim the art of face time and in-person collaboration. We believe building great software means not only hiring the best people, but creating the best environment for collaboration. Beyond our products, we're here to build a company.
During Summit, our team continues to work as usual, but with a few things mixed in. Here's a sample of what we did at our last Summit in November: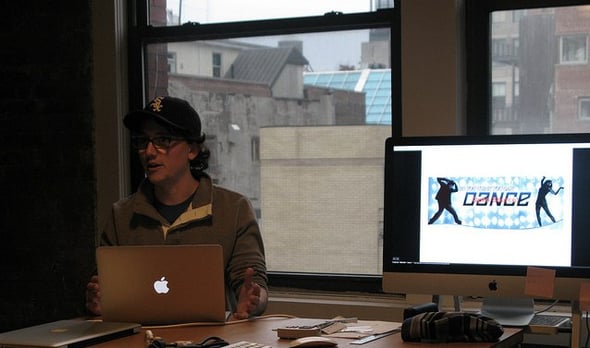 Harvester Patrick Filler presenting a talk entitled "So You Think You Can Open Source"
Tech Talks
Curiosity is one of our core values. We believe not only in the constant pursuit of knowledge, but that it's important to share what we're learning with each other. While the talks are technical in nature, everyone in the company is invited to attend (we are a technology company afterall). Knowledge is shared not only for the sake of education but also to gather feedback. In our latest Tech Talks series, we discussed our new and improved approach to billing, an introduction to Chef and learnings from our open source project, Chosen.
Customer Visits
While every Harvester interacts with our customers via email or phone, there's simply no substitute for visting our customers in person and getting to know what they do. We're extremely customer focused as a company and we love learning from our customers. This year we visited three of them and you can read more about what we learned here.
♫ Don't Stop Believin' ♫
As you can gather from our careers page, we have a very musical group here at Harvest. It's no coincidence that karaoke is one of our favorite pastimes. With each Summit, our team is bigger and our sessions are more epic.
As this year's Summit wound down, we're re-energized for the road ahead. More importantly, we've come away with a heightened understanding and appreciation for each other's craft.
Want to join us on our next Summit? We are always looking for great minds to come along for the ride. :)