Recently, we introduced a new look to the user profile. Since its release, we've been working around the clock on the final touches of a feature that's been highly requested by our customers – the ability to assign projects to people straight from their profiles.
This feature is especially useful for larger companies looking to increase their efficiency when adding multiple users and assigning a multitude of projects. We've streamlined the process so that, going forward, it will be much faster to get users set up to track time.
Assign Projects Faster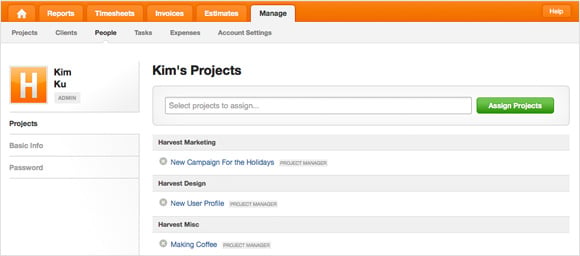 Imagine this: After a grueling recruiting process, you hire a few wonderful employees. You add them to Harvest via our quick and simple form, and we drop you right into the Projects section of their profile. With our new feature, you'll be able to:
Assign them to multiple projects at once using our home-grown Chosen search.
Assign them to all existing and future projects. It's like cruise control, but on Harvest.
Make a mistake? If you accidentally assign the wrong project, you can easily remove it from the list.
This new upgrade is sure to speed up your experience. As we improve Harvest, not only do we want to make time tracking better, but we also want to help you save time. We know this feature will make things speedier and easier, and as always, please send us your feedback!
P.S. Many thanks to Patrick, T.J. and Samara for working so hard on this project.