Prior to launching Harvest, Shawn and I were in the thick of operating our web design and development business. During those years, one of our biggest inspirations was seeing how other businesses looked on the inside. The physical office space represented the modern day workshop. Seeing other people's spaces helped us imagine the type of workspace we wanted to create. How companies divided up their floor, how teams sat together (or not), what they decorated their space with — those were all signals of what the business believed in.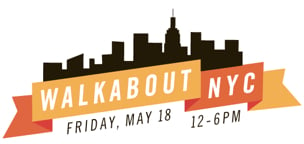 Workspaces continue to inspire us as we build Harvest today. The office is where we spend a big portion of our waking hours, and we want to continue to create the best environment for our team. We still seize opportunities to visit startups and technology companies in NYC and wherever we travel. Seeing photos is one thing but to visit the physical space where ideas come together and speak with the people there — those opportunities are rare.
In 2010, with the momentum of the technology ecosystem rising in New York, we decided to bring that opportunity to a larger audience. What if we organized an "open house for technology companies" so more people can take part in the experience of seeing space and meeting the people behind them? We coined it Walkabout, after all, it's a journey of discovery and NYC is a fine city for walking. That year, the first WalkaboutNYC event launched with 15 brave, companies opening their doors.
WalkaboutNYC is now in its third year and the event has grown up. Over 55 companies in New York City have committed to the spirit of community and to provide insightful experiences to those that visit. From NYC-rooted companies like Fog Creek Software, Tumblr, Skillshare, Voxel to new transplants like Facebook and Spotify, we couldn't be more excited about the roster this year.
2012 also marks the year that Walkabout went international. On Friday, May 11th, the first WalkaboutSG took place in the technology capital of Asia, Singapore. It's tremendously rewarding to see friends latch on and lead this effort in their communities. We are confident that many great things will come out of it for the respective communities.
Hat tip to Karen Schoellkopf, Harvest community manager and the fearless organizer of the event. Without her, Walkabout would not have come together.
On Friday, if you are in NYC, we hope you will take advantage of this opportunity to visit technology companies, see how they work, and meet some great people along the way.
Visit WalkaboutNYC