We've just come out of our 3rd WalkaboutNYC, and with 3 years under our belt, we've learned a lot. For those that don't know, WalkaboutNYC is a citywide open house event for technology companies. This year's WalkaboutNYC was our most successful yet, and we've had many inquiries from people in other cities who would like to host their own Walkabout. I wanted to share some points about what we did, what we've learned, and where we're headed.
We're excited to announce that Walkabout is now an open source project.
We've had many inquiries from folks around the globe that would like to organize a Walkabout in their own cities, and we couldn't be happier to hear it. To support these efforts, we have shared our experiences and knowledge about Walkabout on GitHub, to get you started on hosting your own events. Go forth and bring Walkabout worldwide!
We learned that people like structure.
For this year's WalkaboutNYC, we took a more targeted approach. We set a goal to include about 50 companies (down from 80+ last year), driving traffic to 5 main neighborhoods (sorry Brooklyn), and requiring companies to create an experience led by founders, or lead designers or developers. This framework, utilizing timed events, allowed companies to know what was expected and what to expect. The same is true for attendees with RSVPs — giving them a schedule to follow was loads easier to follow than "go wherever you want."
Be forewarned, Walkabout is a lot of work. And a lot of time.
We spent 873 hours on WalkaboutNYC this year.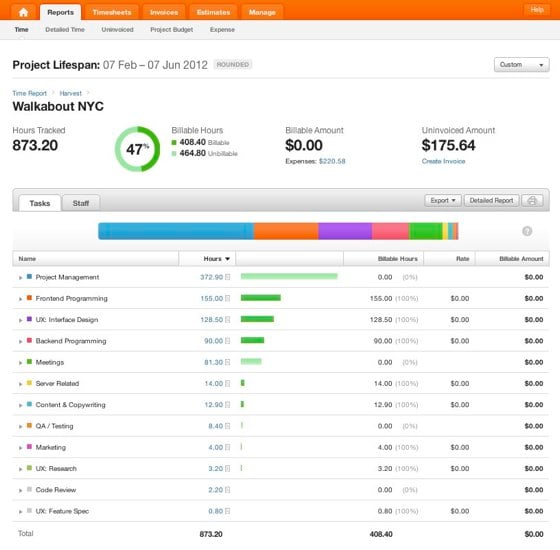 What did we spend so much time on?
We built a new mobile first website, with a front- and back-end RSVP system and database, and Facebook/Twitter authentication for attendees. This was our intern Joschka's very first Ruby on Rails project, and led to his first open source project, Harvey.
Kim did some great design work, from the site, to wall signs, limited edition tote bags, to stickers. The goal this year was to bring a stronger tie between Harvest and WalkaboutNYC, so that people actually know that we organize and support it.
The rest: outreach and back and forths with companies, sponsorships, press and PR company involvement, and general inquiries.
Coming next: WalkaboutNYC for creative agencies.
Despite the time commitment, we find the experience WalkaboutNYC provides for companies and participants to be a very worthwhile endeavor for the community. Previously, WalkaboutNYC has focused on the technology product community, and we'd like to shift focus to creative agencies this fall. Email us at info@walkaboutnyc.com if you work at a creative agency that is interested in hosting walkabouters this fall, we'd love to hear from you. And keep exploring!