You and your clients are doing more business on mobile as smartphones become more sophisticated and bigger. Our iPhone app lets you track time and expenses, but invoicing is not as mobile-friendly. Starting today, you can manage invoices from anywhere with the latest release of Harvest for iPhone.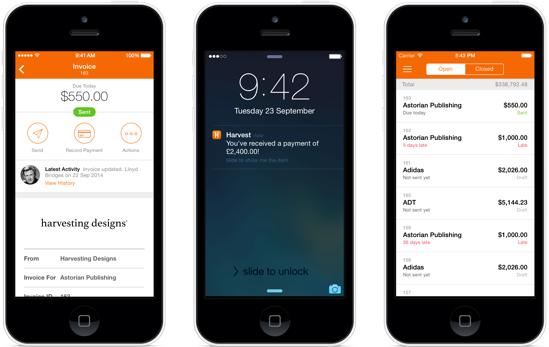 Review and Update the Status of an Invoice
Simply whip out your iPhone—like at a bank, or a client's office—to review and update the status of an invoice. You can view the status of sent invoices, and see which ones are paid and outstanding. And just as easily re-send invoices to clients who misplaced them.
Paired with our mobile-friendly web invoice, clients can view and pay invoices right from their phone.
Receive Push Notifications for Payments and More
With 3.1, push notifications notify you immediately of payment on sent invoices. As soon as your client pays an invoice via Stripe or PayPal, the invoice is marked as paid in Harvest, and account owners are notified on iPhone. For old-fashioned clients who prefer to pay by check, manually mark their invoices as paid and keep receivables up-to-date.
Businesses with timesheet approval also receive notifications sent as reminders to submit time — you'll be less likely to forget, and you can submit easily right from the app in case you've already clocked out and left the office.
Send Clients a Thank You Note
After receiving payment you can send a thank you note right from the app to show your appreciation (and then splurge on some fancy coffee beans). You won't miss a beat when surprising your clients with an immediate follow up.
This is the first step in managing invoices with Harvest for iPhone, and we plan to release more updates in the future. If you like what you see, please let us know with a review in the App Store.