Today, we're proud to unveil the first step of the highly anticipated integration between our two products, Harvest and Forecast. The project budgets in Harvest will now be reference-able from Forecast in real time. You can now compare the hours you have left in a project budget with the hours you have scheduled from today through the end of a project. With this first point of integration, using Harvest with Forecast lets you make smarter scheduling decisions. Here's how it looks in Forecast: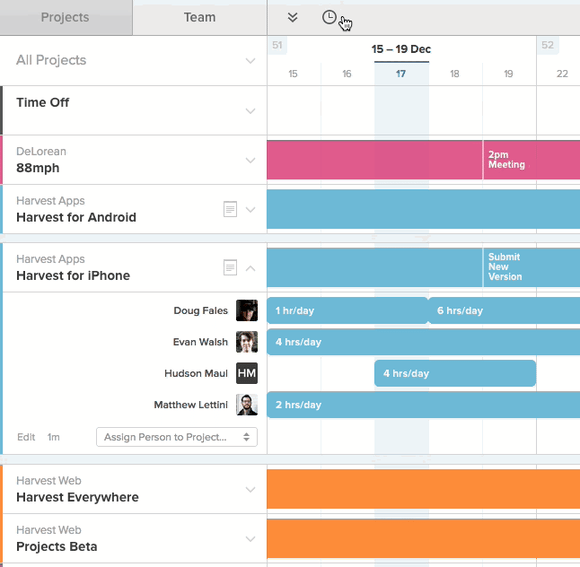 Scheduling With Insight
As a project manager, you are constantly striking the balance between deadlines, your team's availability, and the project budgets. Forecast provides a realistic view of your team's schedule, availability, and commitments. By referencing future scheduled hours, you can quickly see how many hours are committed across your projects and team members. For projects linked to Harvest, you can easily compare these hours against the actual budget left. This handy feature informs your scheduling and ultimately keep your projects running smoothly.
For example, if your project is scheduled to take another 300 hours (in Forecast), but you only have 280 hours left in the budget (according to Harvest), you can take action before it's a bigger problem. Maybe you need to talk to your client to revisit the scope, or talk to the finance team to see if there's room to increase the budget. By having quick access to these key numbers, you will be better equipped to keep projects predictable and clients happy.
More To Come
This is just the first step of the Harvest and Forecast integration. We're excited to bring together the information from these products in a way that will not only save you time, but provide a new level of insight to help you manage projects.
In the near future, we'll bring Forecast data into our new Projects section. Our goal is to help customers not only see where they are in their project budgets, but to also see it alongside the expected efforts needed to complete the projects. We'll share more details about this in a future post.
We hope you enjoy this new feature and if you have any questions or feedback, don't hesitate to reach out the team at support@forecastapp.com.