Today we're introducing a new feature to Forecast: you can now export your schedule to a CSV file! This is super useful if you want to work with your Forecast data in other applications, such as Google Sheets or Excel. We're still fine tuning things, but we wanted to get this out to you today in its Beta form so you can give it a try.
To try this out, just head over to the new Export section from the navigation menu. Once there, it's as simple as choosing the weeks you'd like to export, and choosing the format of your export:
Projects Schedule View will list your projects, with a separate line for each person's assigned hours for each week.
Team Schedule View will list each person on your team and a rollup of their assigned hours for each week.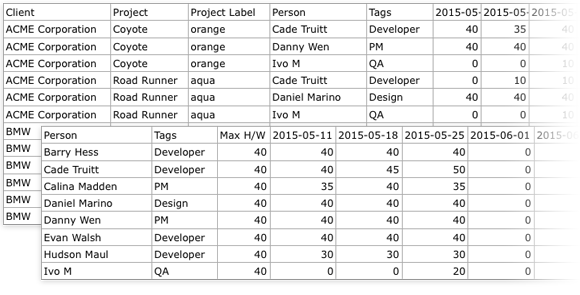 As you can see, exports are a fast way to get weekly summaries of your Forecast schedule. We hope these exports allow you the freedom to do more with your data!
If you have any questions or feedback, don't hesitate to reach out to the team at support@forecastapp.com.