Earlier this year we announced a tighter integration between Harvest + Forecast, combining your tracked hours with your scheduled hours. This update allows you to compare your team's estimates vs actuals, and also reveals real-time project health, so you know ahead of time if you'll go over your hours budget.
We're happy to announce that we recently added two nice updates to this project health portion of our integration.
We'll now show if you'll be over or under budget in the Forecast summary for all budget types, including fee-based budgets.
If we are able to calculate the projected fees, we'll also show that in the summary, even if you've selected an hours-based budget.
This means you'll be able to know ahead of time if you will go over or come under your fee budget right in the summary!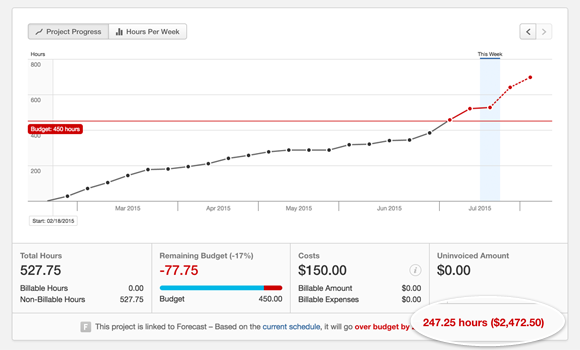 Note: To calculate projected fees, you will need to select an invoice method of Project Hourly Rate or Person Hourly Rate.
We know that, at the end of the day, knowing where you stand against your projected fees is critical to your business. We think this update will help you run your projects more smoothly and efficiently.
Bonus! We've also just rolled out the "money graph", which means we will show you a graph of your project's progress against the monetary budget you have set for any projects budgeted by fees. This graph will also includes projected budget data from Forecast.