The Apps Team at Harvest is very proud of our latest work on Harvest for iPhone. One of our major goals this year has been to make your mobile time tracking experience faster by simplifying and streamlining the interactions required to do basic tasks.
In this release, we've focused heavily on how you get around the app. The new tab bar navigation gets you between Time, Expenses, and Invoices with a single tap. And it's close to your thumbs, which is increasingly important as screen sizes continue to grow.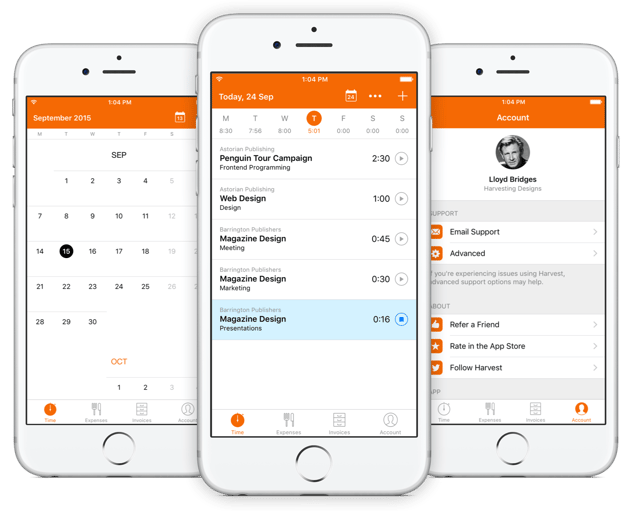 The Weekly Summary Bar allows you to see a full week's worth of totals, plus it will let you jump between individual days with just one tap. You can quickly go back and forth by swiping: swipe on the bar itself to jump backwards and forwards by a whole week; swipe on the Timesheet to go backwards and forwards a day at a time. And if you need to get back to a specific date several weeks ago, you can now go directly there using the Jump to Date calendar. As part of this improved Timesheet navigation, we've also optimized the way we load Timesheet data. In general, we think you'll notice a much snappier UI with significantly reduced load times.
We've also exposed start and stop buttons in timers directly in the Timesheet view. Need to re-start a timer quickly? Open Harvest for iPhone and in one tap that timer is running. Did you forget to stop a timer before you packed up your laptop? No problem, just open the app and tap the stop button.
There are many more updates in this version that we think you'll enjoy: from miscellaneous bugfixes to a faster receipt chooser to an improved Account & Settings section. Rather than detail all of our updates here, we invite you to update your app today and see these great improvements for yourself. As always, if you have feedback on Harvest for iPhone, we'd love to hear your thoughts.