How do we communicate important announcements to our 45 person team across nine different countries here at Harvest? We use a single email to aggregate all of the team's notable messages for the day. It's the one email that everyone on the team reads every day. It highlights notable things like:
Hey team, we shipped this new feature today. It's out to 75% of customers.
Reminder that our Summit is in NYC next week. Please remember to bring a gift for the gift exchange!
To create this email, we use Slack. All a member of the team needs to do is type /notable in Slack (from any channel), and it will hashtag the message as notable and post it in the #general room.
But more importantly, it will add all the notable messages for the day to a Team Notables email, so that they don't get lost amid GIFs and emojis in Slack.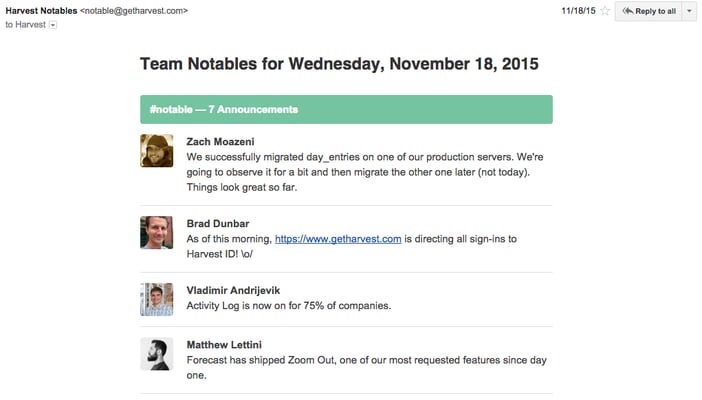 How to get /notable for Your Team
We find this email so useful that we've open sourced the code so your team can benefit too! There's instructions on how to set it up here. It's only a one-time setup, and you don't have to be a developer to download it.
Our thanks to Harvester Jason Dew, who built /notable and worked on open sourcing this feature during our Harvest Hacksgiving (a three-day hackathon our team hosts internally the week of Thanksgiving).