We realize everyone's workflow might be a bit different, which is why we've added some long-overdue flexibility to our QuickBooks Online integration. You can now control if your Harvest invoice payments get copied to QuickBooks Online. If you manage your payment process in QBO, this means you won't have to worry about duplicate payments getting copied to QBO anymore!
Administrators can configure this setting by going to Settings in the upper-right corner and scrolling down to the Integrations section. Click Edit Settings next to QuickBooks Online. You'll see that you can turn copying payments on/off: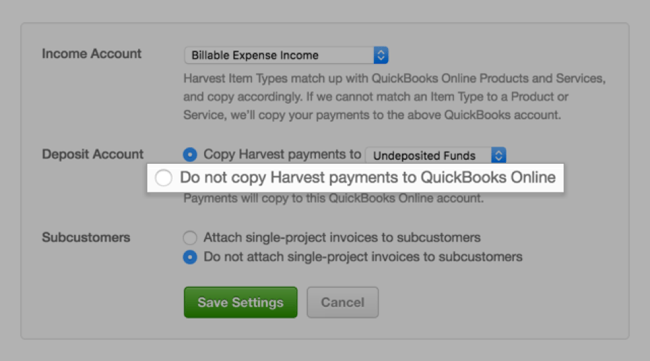 Additionally, we made another small update to the integration. If an email reminder gets sent out for a Harvest invoice, that invoice will no longer automatically recopy to QBO. Invoices that have been copied to QBO will only recopy if you go to More Actions > Copy to QuickBooks Online, or if you receive a payment on the invoice.
You can learn more about our Harvest for QuickBooks Online integration here. If you have any questions or feedback, get in touch with us.