Update 10-18-2016: While we originally rolled out this change earlier this week, after reviewing feedback from our customers we have decided to bring back the daily heat map to Forecast for now. While customers are excited about the new weekly utilization feature, it's clear that customers have also found the daily heat map to be indispensable. We will be re-introducing weekly utilization, as a separate feature, in the near future.
From the beginning, Forecast was built to make it easy to schedule your team's time across projects. It was purposely designed for you to quickly see your team's availability from a high level, and help you make smarter decisions for your business.
A few months ago, we took an initial step towards making Forecast even better for higher-level planning by offering the ability to schedule in hours/week. Now we're taking the next step: the Team Schedule will soon show each person's utilization week-over-week.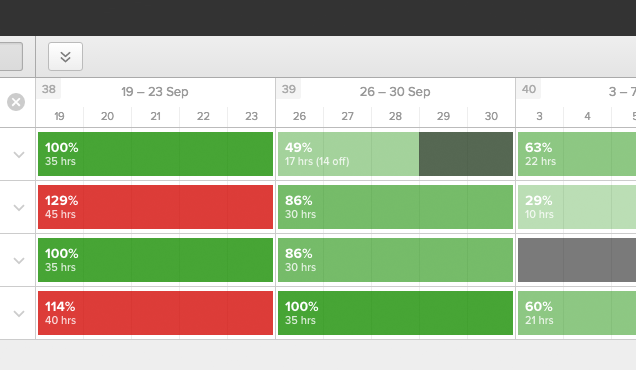 With this improvement, it's even easier to visually see when your team has availability, who is over-booked, and when you can start on that exciting new project. We believe these questions are best answered at a high-level, and we're building the solution right into Forecast's schedule.
How Will This Work?
In Forecast, "Max Hours/Day" will be changing to "Capacity" (essentially max hours per week). This requires no work on your part, since we'll make sure your team is pre-filled. And for those of you integrated with Harvest, we'll also support Capacity in your Harvest account soon.
Then, as you assign your team across days, the heat map on the Team Schedule will total their hours across each week. Weeks will fill with green up to 100% capacity, and turn red when a person is over-booked (similar to how it works today). We also believe knowing when your team is going to be out is essential to planning. The heat map will still show days off in dark gray, as well as when assignments conflict with Time Off.
We're excited to bring this week-over-week utilization report right into Forecast. It will be rolling out in the next few weeks. As always, if you have any questions, please don't hesitate to get in touch.