Recently, we've been working to overhaul a lot of the code that powers Harvest invoices. Today I am excited to tell you about the first visible change as a result of that work: you can now link an invoice to a project in Harvest!
A New Invoices Tab for Each Project
With this feature, the first thing you'll see is a new Invoices tab on the pages for your projects. From here—yep, you guessed it—you can see all invoices that are linked to the project. If an invoice is linked to multiple projects, it'll appear on the Invoices tab for all of them!
This improved organization gives you quick insight into how much your projects have earned thus far. And if you budget in money, it'll be much easier to compare it against your invoiced amount.
For each project, you'll see just the invoiced amount that applies to it. This Invoices tab will be visible only to administrators and project managers with create invoice permissions. As usual, project managers will see only draft invoices they created.
How We Link an Invoice to a Project
Here's how the linking works:
When you create a new invoice, or edit an existing one, you'll see a new dropdown under the description for each line item.
This dropdown lets you pick the project that a line item relates to, and it establishes the link!
If you are invoicing based on tracked time, we do this work for you – the project is automatically set on each line item, so you don't have to do any extra work.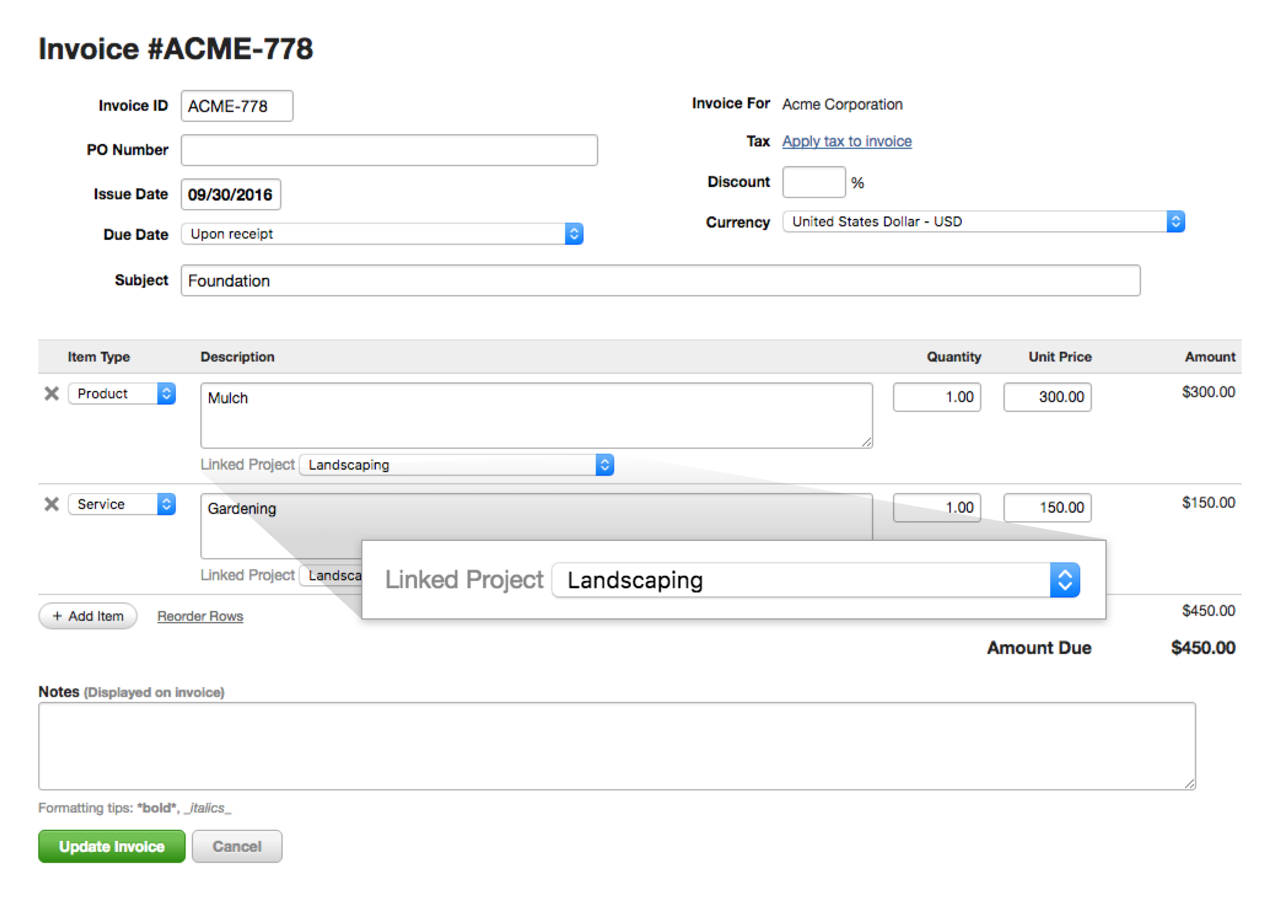 Details to Know
A couple of notes about linking:
Invoices you made before this change won't be linked to projects. The good news is that it's easy to link existing invoices on your own. Just go to your project's new Invoices tab. Then click Link Invoice. Or, edit your invoice and pick the appropriate project for each line item.
The linked project for each line item will not appear on the invoice that your clients see. The view your clients see will continue to look and function as it always has. We're just adding this link on your side of things.
We're excited about this feature, and hope it helps you better organize your billing! This is just the beginning of some invoice improvements that we're working on, so we're eager to hear your feedback!