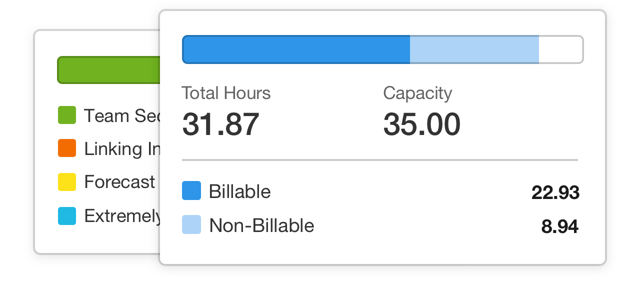 This week, we begin rolling out our new Team section!
Since our last announcement, we've been putting the finishing touches on our work. And we can't wait for you to see it! A few things up front:
You don't need to do anything to get Team. It'll simply show up in your main navigation within the next few days.
Team replaces the People section, under Manage. You'll have all the same features you're used to, plus more.
Team is only visible to administrators for now.
Why Team?
As we launch, we wanted to give you some insight into why we built Team. There's an age-old question in time tracking: How do I know my team is tracking, and how do I know they tracked accurately?
Two things need to happen to answer this question.
First, it needs to be easy for your team to enter time. Harvest has a lot of features to help with that: timesheet reminders, Android and iPhone apps, desktop apps, and integrations galore.
But secondly, it should be easy to review timesheets, so you can ensure tracking is happening. And it should be breezy to edit those timesheets, so you can fix mistakes.
Team Has the Answers
This second point is where Harvest used to fall short:
It was cumbersome to see who wasn't tracking time.
There wasn't a clear way to understand if the time your team tracked was enough, too little, or too much.
And lastly, editing a teammate's time could be time consuming!
With Team, you'll have answers! In your new Team section:
You'll see at a glance who is and isn't tracking time for the week. This makes it simple to ensure your team's putting in their hours.
You'll be able to track capacity! That's the total hours per week a person is available to work. This is key to understanding if someone is tracking enough time or too much (and are in danger of burning out!). Forecast users, you should be familiar with capacity already. We'll sync your capacity between Forecast and Harvest!
And, you can edit a person's time in the same place where you review it. This'll make correcting mistakes a snap!
What We're Excited About
The first time you go to Team, you'll see an introduction to get acquainted with the new features I mentioned above—capacity and in-line editing.
So for this blog post, I wanted to share how Team has changed my own Harvest experience while managing some of our recent projects. I've been using Team internally for the past few weeks, and one of my favorite features is the ability to see who's over capacity.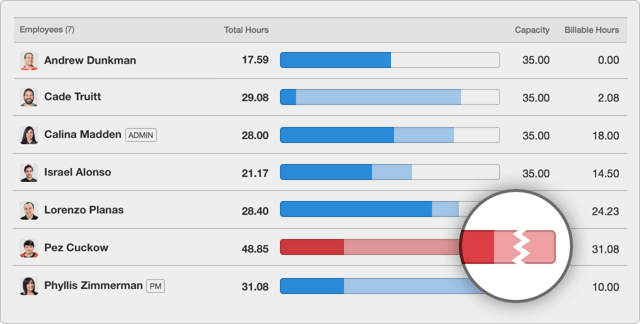 While we worked on Team, I noticed the over-capacity graph pop up for our front-end developer, Pez. And it was enough to prompt me to check in with him, just to make sure he wasn't overwhelmed. Turns out he was fine! But this check-in was something I wouldn't have easily known to do before. The change in Harvest is small, but the benefit to our team feels really good.
I also love the project breakdown on each person's page. During our recent Invoices work, these project breakdowns helped me understand what else our developers had on their plates. And knowing this gave me a deeper understanding of their workload (or a clue that they might have been tracking to the wrong project!).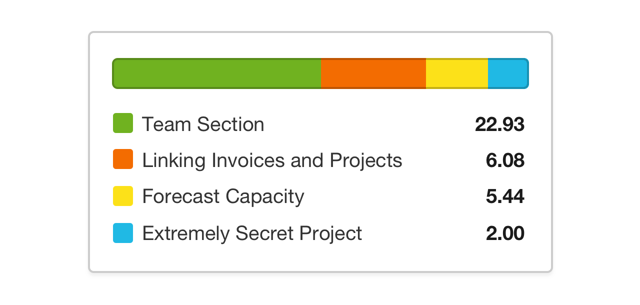 To the Future
There's so much we're excited about, but for now we'll let Team speak for itself.
We're also thinking ahead. A few things we've been considering for the future: how to filter your team, a tighter integration with Forecast, and how best to share Team with project managers.
For now, we hope you enjoy Team and all it has to offer today! And as always, we'll be on hand to help you with the transition. If you have any questions or feedback, just get in touch!