All sorts of people use Harvest to track their time, but we know Harvest holds a special place in the heart of many project managers. We've had the opportunity to meet a lot of these PMs and hear about the unique challenges of a job that doesn't often get a lot of attention. So, we created a column on our blog for PMs to share their biggest challenges and inspire each other with creative ways to tackle them.
Our first contributor is Grace Steite Masri, a senior producer at Your Majesty who has previously worked at Big Spaceship.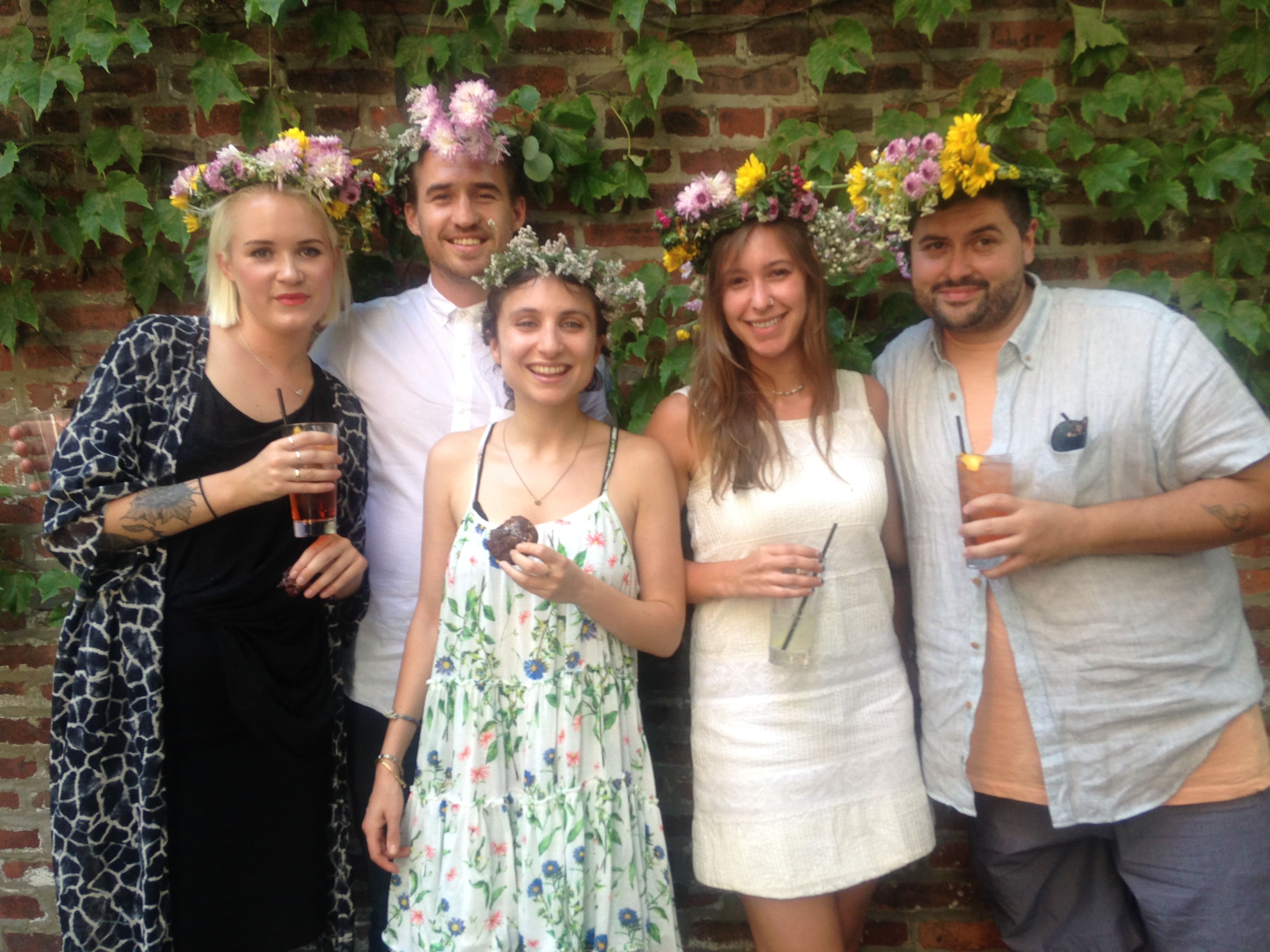 Grace, center, with the Your Majesty team at their Swedish Midsummer celebration.
Tell us a little about your company.
Your Majesty is a digital agency based in Manhattan. Our work is primarily geared toward web design and development, but includes everything from branding and advertising to experiential work.
What's some work you're really proud of?
We recently helped launch Red Bull Music Academy Radio in the United States. This was exciting because we got to lead the brand strategy and positioning of the product and then create a national campaign around it.
Currently, we're working on a fun live streaming experience project for the Swedish brand Tele2, which involves stepping into the mind of interesting characters such as actor Joel Kinnaman. Our team has been flying around the world shooting awesome content and it's exciting seeing it all unfold.
What's your biggest challenge as a project manager?
Over the last year, I've been experiencing a struggle when it comes to my role as a producer. It's become apparent that people don't understand the nature of my role and the value it brings to projects.
This is a natural result of working in the tech industry—it's hard to explain what a strategist or UX designer does to someone who isn't familiar with web design. I know I'm not the only one with this problem outside the office. What troubles me most is that some people I work with don't seem to totally get it either.
"Umm… you're a good organizer?"
Yes, it's true, I am. I'm also good with timelines, budgets, taking notes, and so much more than that. But when I try to explain my role to others, I find myself lost for words, defeated and deflated.
Do you think there's a way to better communicate your role?
I realize now that if I want to continue seeing value in my job, I need to be able to articulate what that job is. So over the last few months, I made a list of things I do on a day-to-day basis that I feel best describe my role:
When Drew told me he'd be able to deliver the homepage design by end of day, I told the client we'd send it over the next day instead. I could tell Drew was exhausted from the intense work and probably didn't have the brainpower to deliver his best within a few hours.

I have good instincts and I'm basically a fortune teller

.

When I saw Nelson struggling to articulate our proposed brand strategy due in four hours, I took him out for coffee and fresh air, and then sat with him to help write the rest of the deck.

I'm a good communicator

.

When I noticed some tension between team members, I spent several hours researching and creating the right retrospective exercise to enable a constructive conversation between them.

I'm a facilitator

.

When Sophie had to work late because the video edit took longer than expected, I stayed with her at the office to give her moral support and inspiration.

I'm a cheerleader

.

When Keat ran out of ideas for the video shot list he was writing up, I brainstormed with him and shared my ideas—and we ended up using them. I even styled the shots with the props that I bought.

I'm creative

.

When Tierney was taking longer than expected to complete the style guide, I negotiated with other producers to get a few hours of help from another designer. That helped alleviate her stress and she was able to finish on time.

I'm a problem solver

.

I've built strong relationships with our clients. So when we needed to push back on feedback we disagreed with, the client wasn't upset and heard us out.

I'm a diplomat

.
Looking back at this, I was reminded that my role is actually pretty complex. It demands skills that are tough to measure, including patience, empathy, creativity, and a strategic mindset. These aren't skills you can see in the finished product, but they helped get it there.
Using these learnings, I decided to describe my role as a team leader and facilitator of success—I help people do their best work. It's a bit fluffy, but at least now if someone needs more detail, I have some reading material for them!
Is there anything else producers and PMs can do?
I always try to keep my team solution oriented, instead of dwelling on problems, and that's what I'm trying to do by sharing my thoughts here. So I would say the first part of the solution is to speak up about the issue.
I've also wondered if perhaps the term "producer" might be part of the problem, because it means nothing and everything at the same time. I'd be curious to find out if having a more descriptive and positive title would help, but I really don't know what that title would be.
Finally, at Your Majesty we have weekly company-wide meetings where part of the agenda is TLC (Tender Loving Care). Everyone is encouraged to give kudos to someone they've worked with that week. It's been really helpful in giving everyone, including producers, recognition.
How do you describe your role as a producer? Hit me up on LinkedIn or on Twitter at @steiteofgrace!
Are you a project manager? Feel free to drop us a line if you have any thoughts about Grace's suggestions or would like to be featured in a future column.