Get ready, today we're introducing support for fixed fee projects!
We're rolling out these features gradually, so administrators and project managers, you can expect to see some changes to your account within the next few weeks.
What Is a Fixed Fee Project?
A fixed fee project is any scope of work that you bill at a set price, no matter how long it takes to complete. You may also call these projects flat rate, fixed price, or flat contract.
What's New?
Harvest has always been great for tracking projects that bill hourly. Our project settings, reports, and invoices are built around these kinds of time and materials projects.
But until now, there just hasn't been a clear way to track a fixed fee project. Today, we're introducing three features to better support those fixed fees.
1. Setting Up a Fixed Fee Project
When you create a project, you can now choose if that project is time and materials, fixed fee, or non-billable.
2. Invoicing a Fixed Fee Project
If you invoice for a fixed fee project from its Analysis page, we'll automatically pull in your uninvoiced fees. (Previously, we would pull in hours and hourly rates—yikes!).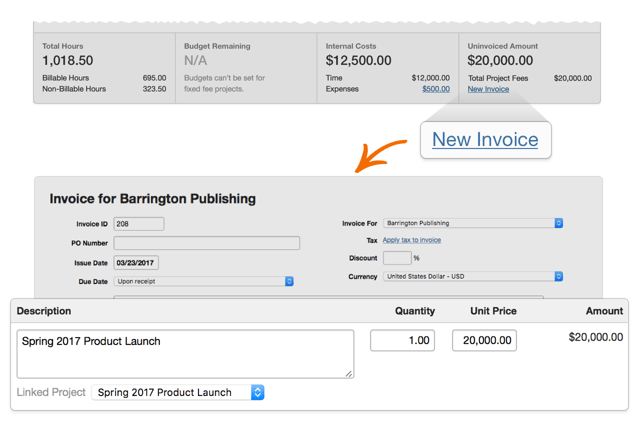 3. Reporting on a Fixed Fee Project
The Uninvoiced Amount for your fixed fee projects will now be accurate. Previously, it was based on hourly rates. Now, we'll calculate it by taking your total project fees, and subtracting any invoiced amount.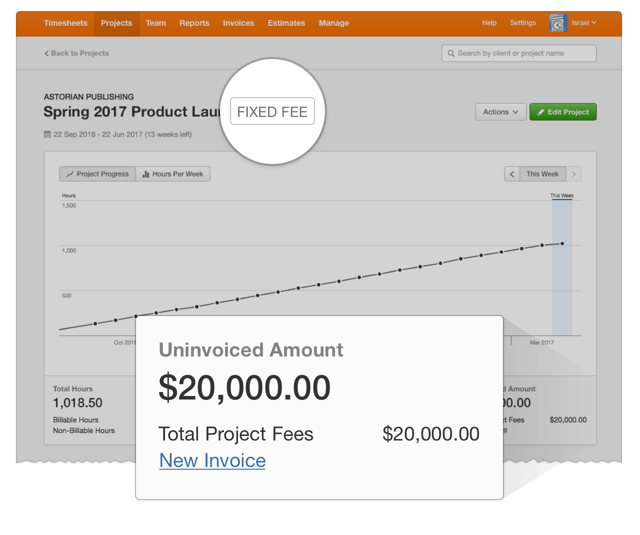 What Happens to My Existing Projects?
When you get access to these new features, all your projects will default to the Time and Materials project type.
But don't worry, this is simply a label! All your project settings, reports, and invoices will remain unchanged. In fact, you may not even notice any changes to your account.
If you want to change the project's type, all you need to do is edit the project. Otherwise, you don't need to do a thing!
You can read more detail about how our new features will affect your account here.
What to Expect Going Forward
We're happy to introduce these first steps to help track fixed fee projects more accurately and obviously. But we also know some additional features could make these projects even more useful.
There are a few features we've purposefully left out so that we could start simply. Over the next few months, however, you can expect us to keep improving fixed fee support.
A Note on the Past, Looking to the Future
If you've been with Harvest for a while, you might know that we've wanted to support fixed fee projects for…well, a long time. It's been a winding path getting us to this blog post.
On that path here, we've knocked out some blockers—like a new Projects section, and the ability to link a project to an invoice. We released a preliminary set of fixed fee features to a group of beta users, whose generous feedback helped us learn how these projects work. And there have been a few paths we've gone down, only to turn around and start again.
That's why we're all the happier to be able to bring these features to you today. It's a start of something we think will lead to a more useful, more powerful Harvest.
If you have any questions, or want to share your ideas to make fixed fee projects better, just let us know!