Harvest Forecast was introduced in the summer of 2014, bringing a simple and intuitive experience to planning your team across projects. From the beginning, scheduling in Forecast has focused solely on weekdays, Monday–Friday.
Over the past 3 years, scheduling on Saturday and/or Sunday became our number one most requested feature. Whether it's contract work, hosting an event, shooting a commercial, or simply needing to meet a Monday deadline, there's a myriad of reasons why many of our customers need to schedule on the weekend.
Today, we're excited to share that scheduling on Saturday and Sunday is now available for all accounts.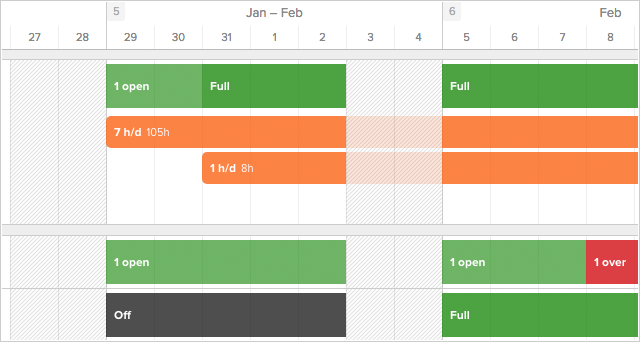 Weekends for New Accounts
All new Forecast accounts automatically include Saturdays and Sundays on the schedule.
For anyone that wanted to use Forecast but needed to schedule on the weekend, you can sign up for Forecast today!
If it's been a few years since you last tried Forecast, catch up on other new features you might have missed.
Weekends for Existing Accounts
If you're a customer today, or you plan to revisit an old trial, you can add weekends to your account right within Forecast.
If you missed our in-app announcement, simply head to your Settings page. You will see a new section to "Add Weekend Scheduling to Your Account", which will take you to a new page to do exactly that!
Planning your team's time is as seamless as ever—you'll find all the same functionality with just a couple extra days per week.
An important note: Adding weekends to your account is permanent, and there is no undo. Make sure everyone on your team is on board with this change before proceeding!
Assigning on Saturday or Sunday
Saturday and Sunday will automatically default to non-work days for all team members. Since assignments scheduled across non-work days automatically exclude those days from hours calculations (per our recent change), this will allow you to continue to create weeks-long assignments without needing to edit out the weekend time.
However, if you want to explicitly schedule on the weekend, simply click directly on the Saturday or Sunday you need!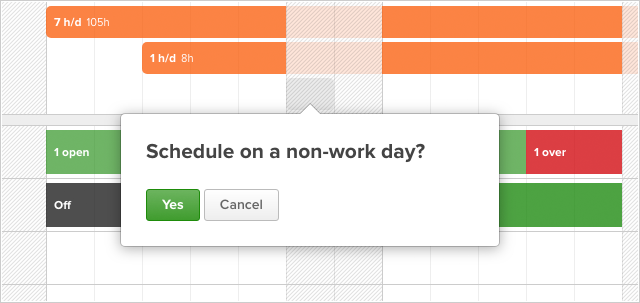 We're excited to start the year closing out one of our most requested features. We have a lot of ideas for 2018 too, stay tuned!
If you have any questions about adding weekends to your account, please don't hesitate to let us know.