Last quarter we announced support for ACH payments via Stripe for US customers. The response to this has been tremendous. With clients paying invoices via bank transfer (ACH), our customers are saving money on transaction fees, and getting paid faster!
But while we added the ability to turn on ACH payments (in the US), credit card payments could still be accepted as well. This meant that even if you enabled ACH payments, there was still the possibility that your clients could choose to pay via credit card. And you would foot the bill on those higher fees.
So we've made a small but meaningful update: US customers can now disable credit card payments via Stripe. This means you can now set up your Harvest account to only accept ACH payments on your invoices.
Just head to Invoices > Configure > Online Payment, and if you've linked your account to Stripe, you'll see flexible options for both credit card and bank transfer (ACH) payments.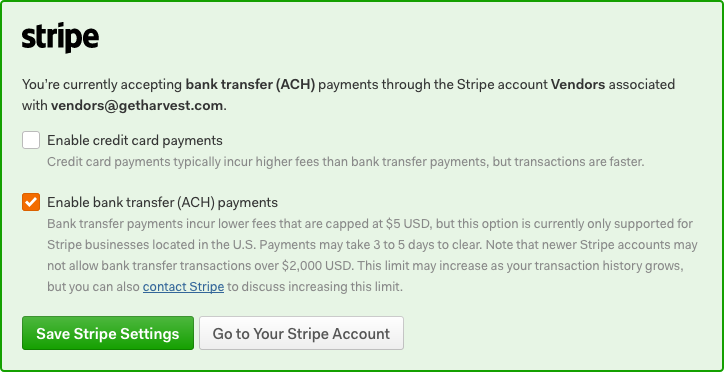 Note that if you have any clients with a recurring credit card payment, disabling the credit card payment method in Stripe will not cancel those recurring payments. You'll need to manually turn those off if you no longer wish to receive them.
Why use ACH?
If you missed our original announcement about ACH support, here's some more specific details on this payment option:
Credit card transactions typically incur a 2.9% cost in fees. This means on a $10,000 invoice, you pay $290 in fees. To prevent those fees, you might ask a client to send the money via check, but the downside is you might be left waiting days or weeks to get paid.
With bank transfer (ACH) payments, you can get paid fast without incurring those huge fees! Stripe charges only a 0.8% fee for ACH transactions, and fees are capped at $5 per transaction. With that same $10,000 invoice, you pay only $5 in fees—saving you $285!
While credit card payments post quickly, it can take up to 3-5 business days for ACH payments to be approved. When a client pays an invoice via bank transfer (ACH), you'll be notified instantly by email, and the invoice will be marked as pending until it's approved. We'll notify you again when it's approved and the invoice is marked as paid.
With fast payments and lower fees, ACH will save you both time and money.