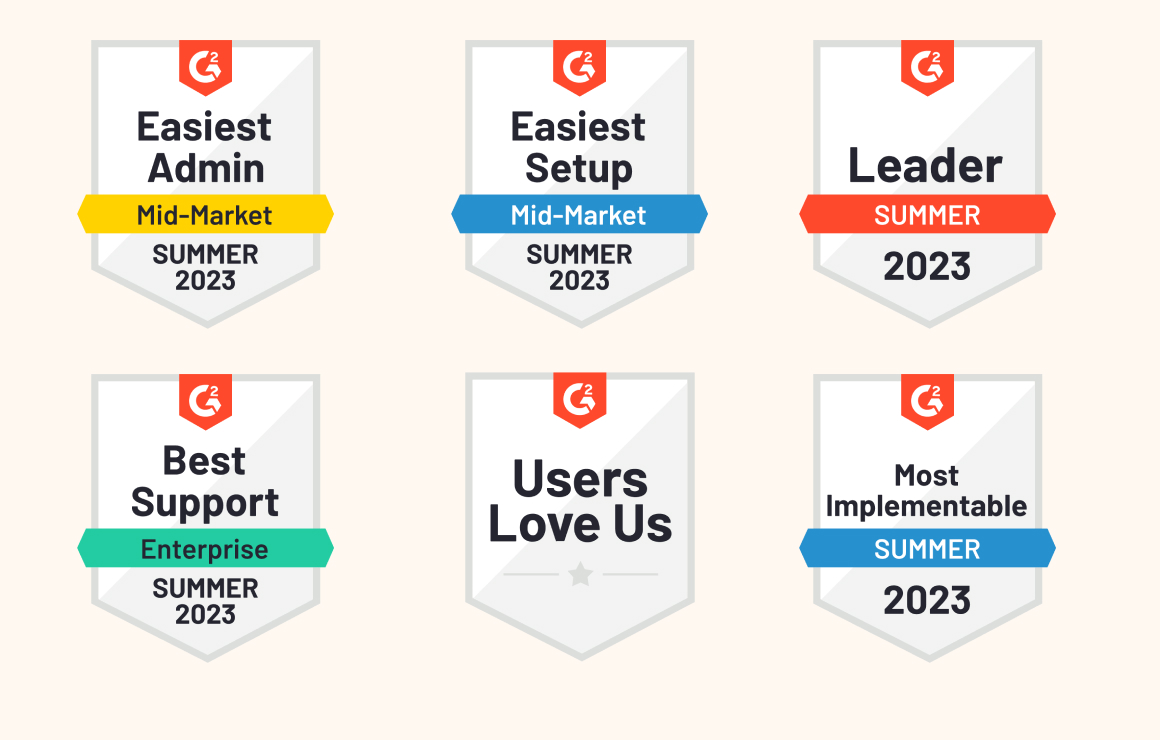 The results are in: G2 awarded Harvest with 12 badges in the Time Tracking and Project Cost management categories as part of their Summer 2023 Grid Report. We're honored once again to be named leaders in both categories — and since the badges are based on customer reviews, it's amazing to see how Harvest helps great businesses thrive.
Take a look at a few highlights from our awards below.
Highlights from our award list
In addition to earning the Leader award in both categories, a few badges that we're particularly proud of include:
Easiest Setup, Easiest Admin, Most Implementable
More than 70,000 businesses use Harvest every day because even though it's packed with powerful features and tools, it's very easy to adopt and hit the ground running on a daily basis — without having to put your team through a burdensome training process.
"Harvest is super simple and easy to use," G2 reviewer Anna Allingham. says. "I love that you can set a time limit on specific projects and visually see how much you've gone over. Having the costs and percentages visible is helpful as well. You can also easily see other team members' progress on projects and their hours for the week."
Best Support
We pride ourselves on our ability to not only provide the best customer experience as possible, but also to ensure our customers are making the most of the product. It's an honor to see how much of an impact our stellar support team's efforts have had. They're always ready to help with any questions, so never hesitate to reach out!
Users Love Us
More than 70,000 businesses spend their time wisely with Harvest, and we've worked tirelessly since 2006 to be the trusted solution that makes it easy to capture time, gain valuable insights, and get paid for your work, all in one place. It's an honor to continuously receive the "Users Love Us" reward each G2 award season!
How Harvest can work for you
Harvest time tracking makes it easy to capture time, gain insights from past projects, and get paid for your work — all in one place. When you start your free trial, you'll benefit from the following features and more.
Empowering insights
Harvest's time and expense tracking capabilities allow you to learn from the past by capturing critical project data.This way you can keep current projects on track, understand which projects are profitable, and know when it's time to take on new business or grow your team.
Intuitive time tracking
We designed Harvest to be a flexible time tracking solution that your team will actually want to use. We're integrated with the tools you already know and love, and your team can easily use it from wherever they work.
Easy invoicing
With Harvest, you're able to turn tracked time and expenses into invoices and collect payment quickly with integrated online payments. Even better, you can automatically copy your Harvest invoices and payments to QuickBooks Online or Xero for simplified accounting.
Join thousands of customers who use Harvest to easily track time, gain insights, and get paid, all in just a few clicks. Start your free trial today.