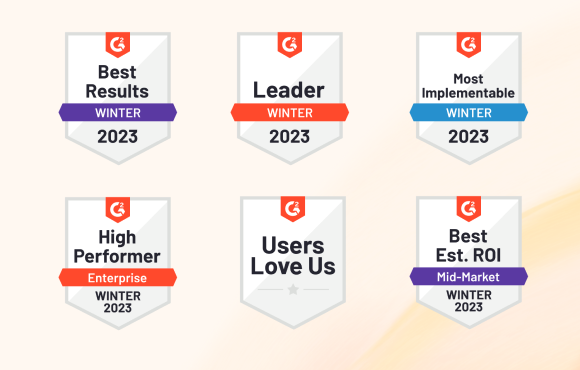 The results are in: G2 awarded Harvest with 11 badges in the time tracking and project cost management categories as part of their Winter 2023 Grid Report. We're honored once again to see just how valuable our tools are to the great businesses who use Harvest to keep their teams ticking.
Highlights from our award list
In addition to earning the Leader award in both categories, a few badges that we're particularly proud of include:
Most Implementable
We designed Harvest to be easy to adopt, integrated with your favorite apps, and flexible enough for all types of teams. But don't take it from us. Jason Newmoyer, Owner of software development agency NGS, agrees.
"Choosing a tool is all about ease of use — just being able to use something and know how it works without even having to ask. Harvest is exactly that. I never had to be taught how to use it, it just works."
Best Results
Providing a quick and easy tool means little if the actual end result falls short. Harvest is not only simple to use but also produces powerful outcomes thanks to our intuitive time tracking and powerful insights.
Healthcare consulting firm Clinovations CEO and Founder Dr. Trenor Williams relies on the results of Harvest to successfully keep projects on track.
"Harvest is our anchor. It's the one we don't ever have to worry about, which is really peace of mind for us. It's that one application, and we use lots of them, that we can always depend on."
Best Estimated ROI
We pride ourselves on helping businesses keep projects profitable, so we're thrilled that Harvest earned the best estimated ROI (Return on Investment) in the mid-market category. For example, John Wall, Founding Principle of architecture firm Public uses Harvest to flourish on a fixed-fee budget.
"It's important to learn as you go, and Harvest is one of the tools that helps us do that. It gives us feedback on how we're doing so we can be competitive, make a profit, and keep ourselves afloat."
How Harvest can work for you
Harvest time tracking makes it easy to capture time, gain insights from past projects, and get paid for your work — all in one place. When you start your free trial, you'll benefit from the following features and more.
Empowering insights
Harvest's time and expense tracking capabilities allow you to learn from the past by capturing critical project data.This way you can keep current projects on track, understand which projects are profitable, and know when it's time to take on new business or grow your team.
Intuitive time tracking
We designed Harvest to be a flexible time tracking solution that your team will actually want to use. We're integrated with the tools you already know and love, and your team can easily use it from wherever they work.
Easy invoicing
With Harvest, you're able to turn tracked time and expenses into invoices and collect payment quickly with integrated online payments. Even better, you can automatically copy your Harvest invoices and payments to QuickBooks Online or Xero for simplified accounting.
Join thousands of customers who use Harvest to easily track time, gain insights, and get paid, all in just a few clicks. Start your free trial today.