Time tracking SOFTWARE FOR attorneys
Time tracking software for legal professionals
Harvest's frictionless time tracking, invoicing, and reporting make it easy to focus on your clients instead of tedious timesheets.
Get a free trial
No credit card required.
Trusted by
70,000+
companies
How attorneys are using Harvest
Easy retainer creation
Harvest makes it easy to create retainers and collect payments upfront. Then you can create invoices that include tracked billable hours, expenses, and fixed fees.
Recurring projects
Operating on monthly budgets for clients? Harvest lets you build recurring projects so you can focus on providing the best service to your customers.
Advanced reporting
Keep track of project progress and resource allocation with customizable reports that help you analyze data in a way that's relevant to your law firm's operations.
TimeSHEETS
Accurate time tracking down to the minute
Harvest's time tracking features help you manage how much time your team is putting into each client's needs versus the fixed fee you initially charged, further increasing the transparency for your customers.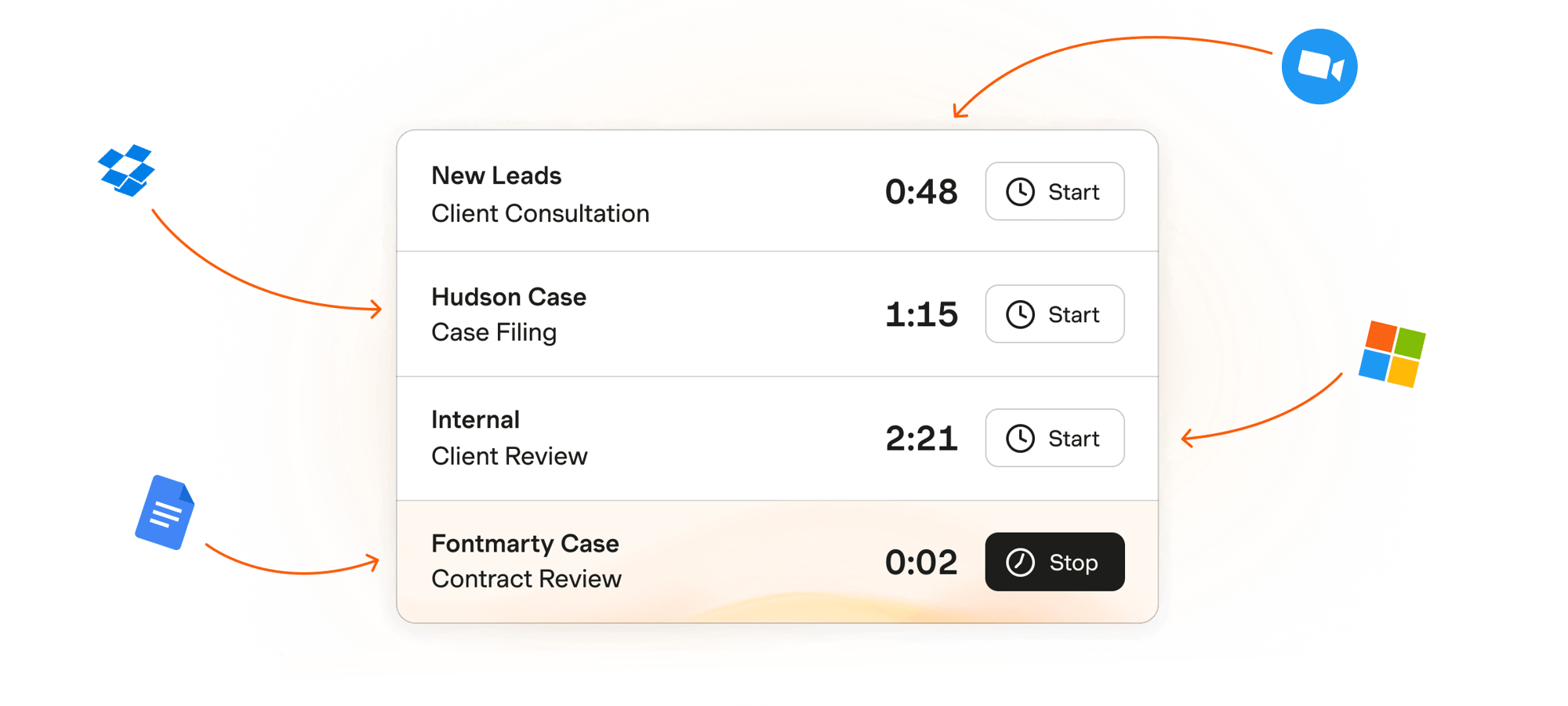 "Harvest has been very useful for us as we have discussions with our clients when we re-evaluate our business."
AJ Vaynerchuk, Co-Founder of Vayner Media
REPORTS & ANALYSIS
Keep your projects on
track and on budget
Harvest's detailed visual time reporting helps you share accurate, real-time reports with clients, plan projects with confidence, and keep fixed-fee projects on track.

INVOICING & PAYMENTS
Streamline your billing process
Your hard work deserves swift payment — and Harvest makes it easy to get paid. We automatically transform time entries and hourly rates into invoices your customers can pay online.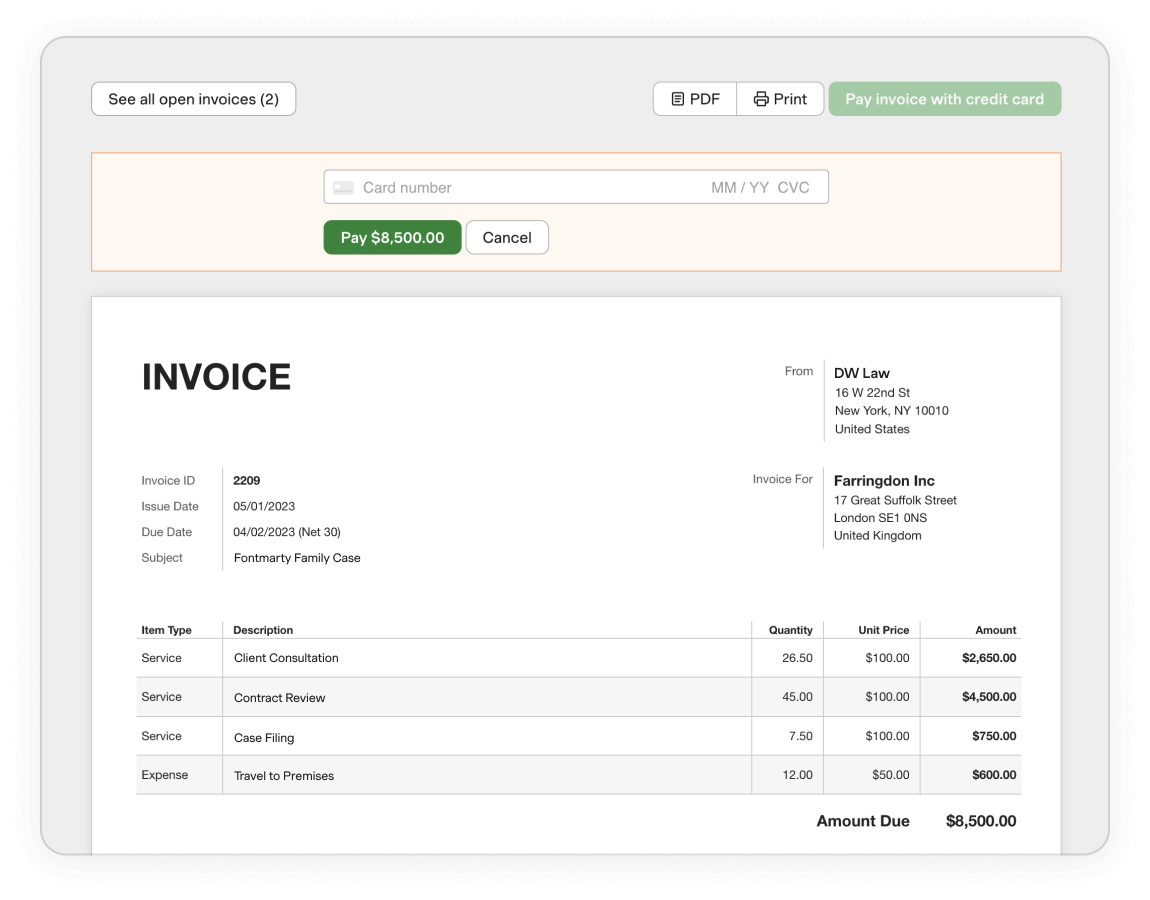 INTEGRATIONS
Integrate seamlessly with tools you love
TRUSTED BY 70,000+ COMPANIES
Helping legal teams thrive since 2006
"
The best thing about Harvest is how easy it is for people to get up to speed with and to use. It takes basically no time to teach somebody how to use it, and very little time to teach them how to do even slightly more complicated tasks like invoicing
"
Ben Foster
—
Partner at Foster Yarborough
"
We use Harvest reports all the time, to assess our individual projects. We can see how they're performing and how we're going towards our goals.
"
Dr. Trenor Williams
—
CEO of Clinovations
"
Harvest was key to helping me start my company - it allowed us to move from a world of managing a lot of subcontractors to managing a staff quite easily.
"
Sara Holoubek
—
CEO & Founder of Luminary Labs
Frequently Asked Questions
In the legal industry, it's important to utilize a timekeeping software to track employee hours and keep tabs on billable hours. It's also important to ensure the legal timekeeping software is easy to adopt and use. Harvest is the best solution for legal teams of all sizes because not only is it intuitive and easy for new team members to learn, but it also comes equipped with critical tools your legal firm needs to thrive.

These features include intuitive time tracking software that's flexible enough for your legal team to adopt. Additionally, Harvest's powerful reporting capabilities provide detailed insights so you can confidently plan for the future, assess your billable hours, and understand where your team's time is going on a day-to-day basis so you can work to boost those billable hours.

Once it's time for your client to pay the bill, Harvest turns tracked time into automated invoices that your clients can easily pay online, making it a smooth transaction for everyone involved.

See for yourself and get started with a free trial — no credit card required.

Harvest's employee time tracking software is affordable for teams of all sizes. For just $10.80 a month per user, you can track time across unlimited projects for an unlimited number of team members. For less than $11, you'll receive more than just time tracking:

Time tracking: Team members can start and stop timers with one click across all devices.
Reminders: Your team will never have to worry about forgetting to track time or losing hours worked, because you can create custom reminders to help them build smart habits.
Invoicing: Your tracked time and expenses are automatically transformed into accurate invoices.
Online Payments: Harvest's integrations with Stripe and PayPal allow you to accept payments from your customers online.
Reporting: Harvest creates detailed reports with insights into your budgets, time spent, team capacity, expenses, and more.
Integrations: Your team will have no issue getting started with Harvest because we integrate with the popular apps they already know and use in their regular workday.
Budgets: Track your budgets along with your time, and if a project is in danger of running off track, Harvest will alert you.
Cost Tracking: Drill down into the details and see how much every project costs to complete.
Expenses: You can add project expenses in just a few clicks, and even attach photos of receipts with ease.

Harvest also provides a free plan for smaller teams and lighter project loads.

When you have the right technology on your side, your legal team can make the most of their work and identify areas of improvement for the future — especially if the software is easy to use and doesn't get in the way of day-to-day operations.

For example, Harvest's frictionless time tracking, invoicing, and reporting makes it easy to focus on your clients instead of tedious timesheets. With Harvest your legal team can easily create retainers and collect payments up front, and also create invoices with tracked billable hours, expenses, and fixed fees.

If your legal team operates on monthly budgets, Harvest gives you the power to build recurring projects so you can focus on your clients. And speaking of your clients, Harvest helps you increase transparency by offering reporting and analytics with the detailed insights you need to keep your clients updated.
Save 10% with annual plan
Easy time and expense tracking
Apps for all your devices
Integrations that fit your workflow
Insight into your projects and team
Seamless invoicing and payments
Support from real humans
Pro
Unlimited seats
Unlimited projects
$10
.80
per seat per month, billed yearly
Easy time and expense tracking
Apps for all your devices
Integrations that fit your workflow
Insight into your projects and team
Seamless invoicing and payments
Support from real humans
All prices in USD