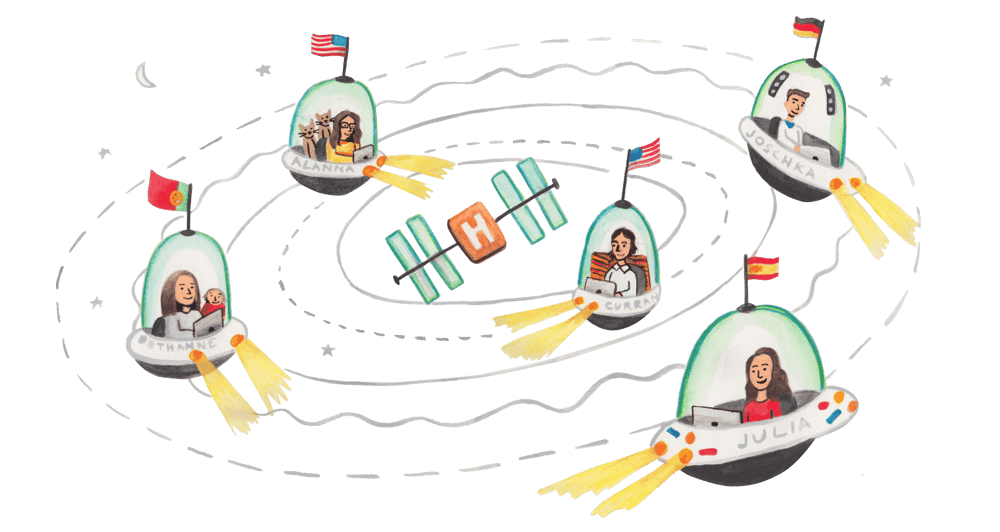 Working Without Borders
When people step into Harvest's headquarters in Manhattan's Flatiron District, they're often surprised by the sheer amount of empty space. On a normal day there are only about ten of us knocking around a ten-thousand-square-foot office.
It takes way more than ten people to keep Harvest up and running, but we don't all work from HQ. That's because our team of 58 is spread out across the globe. From Lithuania to Los Angeles, we're merging pull requests, jumping into meetings, and chatting with our customers.
Remote work is a part of our DNA. Harvest has been a remote company from the very beginning. As Harvest has grown, we've hired people from all over the world. Right now about 80 percent of our team is based outside of New York, and even our New Yorkers don't commute to the office every day.
Contrary to what many remote skeptics assume, we've found that being remote is one of Harvest's strengths. It's allowed us to build a team with a diverse range of viewpoints and life experiences. And because we aren't in the same room together, we have to put a lot of thought into (mostly written) communication. This makes our decision-making process more deliberate, and, ultimately, results in a better product.
Remote work also makes life better for our employees. Working without borders frees us up to live the lives we want to. While some Harvesters come into the office a couple of days a week, some of us work from home every day in our chosen city. And some of us work from all over the world, exploring a new country every month as we continue to hold down full-time jobs. Hanging out there in the digital space, we've each found the orbit that makes the most sense for us.
To give you a little more insight into how we define remote work at Harvest, we asked several Harvesters to share their experiences of working everywhere from Brooklyn to Portugal to Peru: