When we're at home (or tasting some special beans), Harvesters turn to enough coffee gadgets to stock a laboratory. We've tried everything from Chemex and Aeropress makers to the Clever Coffee Dripper and Bodum Santos. At the office, however, we need to rely on a coffee machine that can take care of a dozen or so cups without a daily trip to brewmethods.com.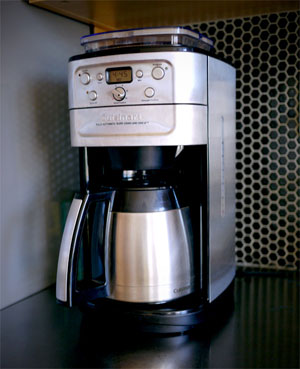 Despite its long and uninspired name, our Cuisinart DGB-900BC Fully Automatic Burr Grind & Brew Thermal Coffeemaker has served the office like a champ. Getting a pot of coffee going is as easy as filling up the bean hopper, pouring some water in and changing the filter. It's perfect for those mornings when you've arrived at the office half asleep.
Features:
Super simple to operate.
Uses freshly ground beans without a messy transfer from grinder to filter.
Thermal carafe keeps coffee warm without a hot plate (no burnt coffee for us).
Easy clean-up.
If you're on the lookout for a coffee maker for your office, it's hard to go wrong with the DGB-900BC. Just think of it as the Honda Civic of coffee makers — it's not flashy, but you can count on it to start up and get you where you're going with a smooth ride.
What we've been brewing lately:
In our previous coffee post (What's Brewing at Harvest), we took a look at where we're getting coffee for the office. Here's an update on some of the beans we've been drinking at Harvest HQ.
Shawn took a trip to California and came back with coffees from Barefoot Coffee and Ritual Roasters. Both were delicious, but we were especially impressed with Ritual's offerings and will be ordering some of those in the future.
John from The Abrite Organization (a Harvest customer) sent us coffee from Verve Coffee Roasters in Santa Cruz, CA. Verve's Street Level Espresso is the real deal.
A little closer to home, we've been picking up beans from Kava Cafe in Manhattan. They're currently carrying beans from Annapolis, Maryland-based Caffé Pronto and we're very impressed with what we've tasted so far.
Do you have any coffee you've been brewing lately that you think we should check out?