Update: We've now added a Snail-mail Friendly option to move the client address to the left for the envelope window. You can find this option, hide columns, and company logo in a new Appearance tab on the Invoices and Estimates configure pages.
Today we're announcing a significant upgrade to our invoicing and estimate platforms: a new rendering engine for the PDFs you send to your clients.
The new engine, which is built with wkhtmltopdf and Liquid-based templates, renders PDFs based on HTML and CSS. This is really exciting, because it allows us to use more flexible and simple code to create them. This means we can have the exact same code for invoice and estimate PDFs as we have in the app, which means they now have the same design and options.
What's New
Implementing this allowed us to make some other features available on Invoices and Estimates:
PDFs now have the page number at the bottom (and an option to translate).
You can now hide the type, quantity, and/or unit prices columns.
If you have a company logo uploaded, but still want your invoice to say "Invoice" on the page, you now have this option. You can turn it on where you uploaded your company logo in the configure section, and then change the title in translations (i.e. – you'd rather have "Tax Invoice"). The same applies for estimates.
We've added quick access to your Web Invoices and Web Estimates.
The new PDF engine is also able to render many more languages. See an example of some languages below: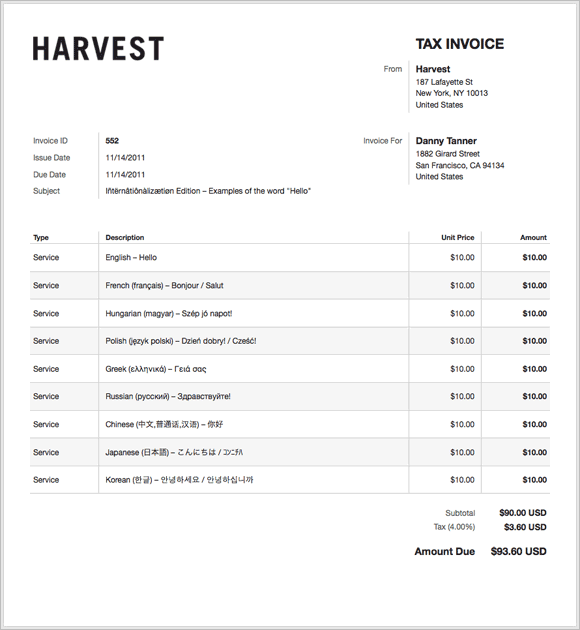 The biggest win is that we now have the flexibility we need for adding features to our invoices and estimates in the future. Any change will automatically work in the app and as a PDF.
We hope this new PDF engine makes your Harvest experience even better.