We're excited to announce our winners from last week's Time Saving Tuesday contest, and to fill you in on this week's contest and prizes.
LAST WEEK'S CONTEST: We asked you to send your best time saving tips for making meetings more efficient. We got many great submissions (thank you all for Tweeting your suggestions!) and we assembled a blog post of Quick Time Saving Tips For Meetings, incorporating several of the best responses. The winner of the set of 8 colorful and lovely "You're Very, Very Late" tatt.ly tattoos is @svpino, who tweeted this: If you want to keep your meetings short, get rid of chairs / coffee / donuts. #respectyourtime
We have to mention that we got a suggestion from @fulljames that tickled us: I want to get a TIM (Time Is Money) clock to show how much our meetings are costing. #respectyourtime
We thought that was a great suggestion (in addition, of course, to checking your Harvest time reports!), and we thought we'd make his day by sending him the TIM clock – congratulations to both Santiago and Stephen!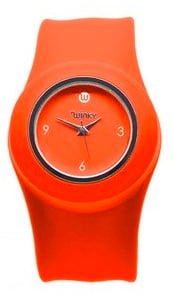 THIS WEEK'S CONTEST: We want your best time saving tips and tricks for your commute. Most of us have to leave the house to get to work, and we want to know: how do you save time while you're en route?
Follow @harvest and tweet your best time saving tips for your commute using #respectyourtime. This week's winner will win this Harvest orange slapwatch from Winky Designs! No longer available on their website, we've got one of their last slapwatches here at HQ, just waiting to be scooped up by this week's winner!
Please share this widely, the more answers we get, the more we can share with you. We can't wait to hear your tips and tricks!