We are very excited to announce version 2.0 of Harvest for iPhone today! This version is almost a complete re-write of the application with an eye towards speed, reliablity, and a better user experience.
The user interface is based on the beautiful design of our Mobile Timesheets page, which includes some powerful usability enhancements like slide-in navigation and the ability to stop a timer directly from the Timesheets view.
The new application internals have borrowed heavily from the lessons learned from our successful Harvest for Mac app. We believe you'll notice this as a faster, more reliable experience in version 2.0. In addition, this new architecture lays the groundwork for future updates, meaning we'll be able to incorporate new features and fixes that much faster.
We've got a long list of updates in this release, but here are a few highlights:
We've added support for logging in via Google Apps, for those of you who have linked your Harvest account to your Google Apps account.
The new Team Status view is a great screen for admins who want to know what their team is working on.
You can now create projects, clients, and tasks while offline.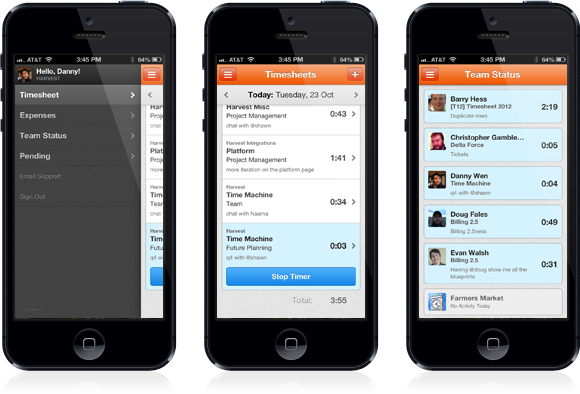 (The full list of improvements in this version is included at the bottom of this post.)
Before You Update
Since this app handles your data differently than past versions, you should make sure your data from the old version is fully synced before updating. To do that, open the old Harvest app, go to the Pending tab, and tap the Sync button. (Did you upgrade before syncing? Email us and we can help.)
Full List of 2.0 Updates
A completely new design, featuring slide-in navigation, support for Harvest color schemes, and improved retina support.
A Team Status view for admins to see what your teammates are up to.
Google Apps Sign In for users who have Google Apps integrated with their Harvest account.
Better offline mode support.
View PDF receipts from inside the app (previously only viewable in the web application).
Ability to stop a timer directly on the timesheets view.
Support for creating projects, clients, and tasks while offline.
Support for using different start day of the week for the expenses view.
Expense amounts now adhere to the Harvest account's configured number format (1,234.56, 1.234,56, etc).
Timers adhere to the Harvest account's configured time format (HH:MM or decimal format).
Better support for locked expenses and entries.
Pull-to-refresh on Timesheets and Expenses views for refreshing on demand.
Ability to email support directly from the app.
User avatars.
Delete or restart a timer directly from the Edit view.
Simpler date navigation.
Fixed a bug where inactive accounts would cause the app to freeze.
Fixed a bug where changing between timezones resulted in negative time entries.
You can grab the app today in the App Store! We welcome your feedback, and if you have any problems, just conveniently email us right from within the app.