For the past year, a small team within Harvest has been working behind-the-scenes on a brand new project.
Today, after 5,443 hours of research, design, prototypes, more research, rewrites, polishes and betas, we're excited to unveil our newest product: Harvest Forecast.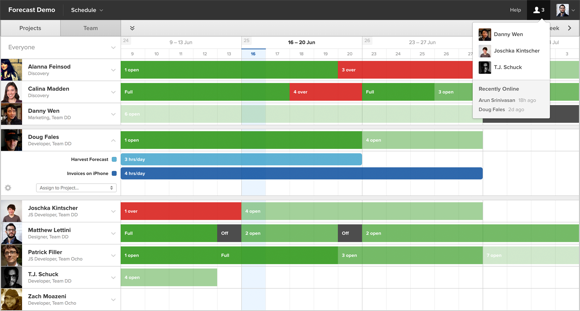 Thinking About the Future
For the past eight years, Harvest has refined how businesses track, analyze, and get paid for their time.
As our customers have grown their businesses, we recognized that Harvest was only part of the solution. Tracking time in the present and past was easy, but there was no answer for the future. Coordinating team assignments and schedules proved to be challenging. You might ask questions like:
Do we have enough capacity to take on a new client in two weeks?
What are the important milestones and deadlines on our projects this week?
Should we hire another person to meet the upcoming project demands?
How can we share this plan with the team?
Traditionally, businesses call this kind of scheduling "resource planning." We like to think of it simply as team time planning.
Many businesses build spreadsheets to try to manage this planning. What we've heard from our customers, however, is that spreadsheets just don't cut it. They're unwieldy, difficult to maintain, and hard to share.
A New Way to Plan Your Team's Time
Here at Harvest, we started to imagine what a truly modern solution to the problem could look like. Time was already our primary focus, and we knew that there could be a simpler answer.
We put together a small team of developers and designers with three key concepts in mind:
Be Visual – Scheduling projects and people is easier when done as a simple, visual experience.
Be Fluid – Accept the reality that schedules and priorities frequently change. Make the information easy to update and maintain so that it can accurately reflect reality.
Be Transparent – Plans work best when everyone knows where their time should go. The easier they are to share, the more informed and productive everyone becomes.
Around these simple concepts, Forecast was born. It's a simple, visual way for you and your team to collaborate on who is working on what and when. It's a solution designed precisely for the challenge.
Just the Beginning
While Forecast is beautifully simple to use on its own, we're most excited about the possibilities for people who use Forecast in tandem with Harvest. Harvest tells you how your team spent time; Forecast anticipates where your team will spend time.
At launch, we're starting simple. Harvest customers can easily bring all of their clients, projects, and people right into Forecast and start scheduling.
In the coming months, we have big plans to bridge the future and the past. One of our primary goals is to surface estimates vs actuals so that business owners and project managers can have previously unavailable insight into how they run their projects.
We're excited to announce Forecast's launch today not only because it's the culmination of a tremendous amount of hard work and thought, but because we believe it can make managing your business easier. Check out what a few of our beta customers had to say here.
If you or someone you know finds scheduling people on projects challenging, we invite you to give Harvest Forecast a try today!
Pricing Update (8/15)
After listening to input from many of you, and after deep consideration on our part, we've decided it's best to price by person rather than by projects. You can learn about our new pricing here.
This past month has been an amazing ride, and we've heard a lot of great feedback and feature requests, many of which were already on our roadmap. We're looking forward to sharing these updates with you in the coming months.